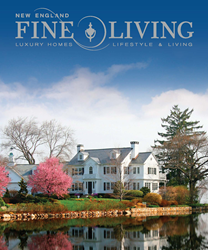 We've created our luxury brand, let us showcase yours
Boston, MA (PRWEB) December 07, 2014
New England Fine Living, LLC a regional lifestyle marketing company has announced the launch of a new luxury print publication, aptly named New England Fine Living Magazine. The glossy oversized luxury real estate and lifestyle publication will make its debut in June 2015 and follow a seasonal publication schedule. The magazine has been created to help luxury Realtors market their products to the hard to reach high-net-worth buyer, seller, and investor.
The magazine will showcase luxury real estate offerings, and the elite real estate professionals who represent them, in the affluent and historic towns of New England. The publication will also promote companies who offer products and services for those seeking the finer things that New England has to offer. The criteria for including a property will be a minimum listing price of 1.5 Million, with geographical exceptions at the publisher's discretion.
"After extensive research, we found a void in the market for luxury real estate and lifestyle publications," said Linda Calder, President and Publisher of New England Fine Living. "We didn't find a luxury magazine that fully covered New England's luxury properties and companies. What we found were publications focused on a much smaller geography, or featuring properties from $500,000 to over $ 1 million. We have created a tightly focused marketing tool for our advertising partners," she added. "We are putting a spotlight on luxury real estate and lifestyle companies in New England — and we are supporting them too. From the start, in our business plan, we made the conscious choice to partner with New England based companies to help us launch this new magazine," noted Calder.
With a minimum of 20,000 copies being printed for the Summer 2015 launch issue, 15,000 will be direct-mailed to households with an income of $500,000 or more in Eastern Massachusetts, along with key affluent neighborhoods in New Hampshire, Maine, Vermont, Connecticut, and Rhode Island. The remaining copies will be available at advertising partner locations, select distribution sites, for sale at regional book stores, and by subscription. All locations will be listed on the New England Fine Living website, which will also showcase each advertiser.
The New England Fine Living's brand started over 10 years ago as a luxury and fine living website portal for Calder & Company's vendors, clients and customers to connect with each other. It was a way of sharing businesses and places that Calder and her staff found in New England that offered products and services to those who enjoyed "fine living". Today New England Fine Living's website has visitors from all over the world searching for New England's signature style homes, styles, décor, and way of life. "This publication has been a clear vision and in the works for many years," said Calder. "With timing and market dynamics being favorable, we have pulled together an amazing strategy and team, and are creating this unique magazine and guide for our luxury advertising partners, New Englanders or those wanting to become a New Englander."
For more information about New England Fine Living's offerings, please visit http://www.NEFineLiving.com - Twitter http://www.twitter.com/NEFineLiving - Facebook http://www.facebook.com/newenglandfineliving - Pinterest http://www.pinterest.com/newl or contact Linda Calder at 978-339-5444 or via email Linda(at)newenglandfineliving(dot)com