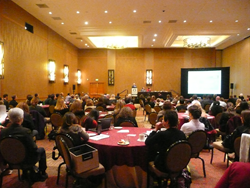 Attendees of ISSP Conference 2014 voiced strong support for professional certification within the field of sustainability.
Hartford, CT (PRWEB) December 08, 2014
More than 200 sustainability professionals gathered for a "who's who" of sustainability at ISSP Conference 2014, held recently in Denver, Colorado.
Presented by the International Society of Sustainability Professionals (ISSP), the conference served as a platform for leaders in sustainability from around the world to honor pioneers within the profession, and to network, learn and share best practices. The ISSP Board of Directors also used the forum to announce an acceleration of the work that ISSP has been doing over the past few years in laying the groundwork for certification of the sustainability profession.
Commenting on ISSP's sharpened focus on certification, ISSP President Julian Crawford of Sydney, Australia said, "We feel that it is important that if there is to be a professional certification for our field that the certification be the result of a credible, transparent process that serves the true needs of the profession and the people that work within it. In the weeks ahead, we'll announce our specific plans to build upon the work we've already led within the industry to define the ISSP Professional Body of Knowledge, a first draft document that defines the skills, terms, knowledge and attributes used by professionals practicing in this field.
A highlight of the conference was the induction of a new group of industry leaders into the ISSP Sustainability Hall of Fame ™, which was established in 2011 to formally recognize individuals who have made significant contributions to the field of sustainability and to the professionals who serve it. The new inductees, who later joined current ISSP Sustainability Hall of Fame members Bob Willard and Hunter Lovins in a Wisdom Panel discussion moderated by ISSP founder Marsha Willard, are:
Susan Burns, CEO of Global Footprint Network.
Jeffrey Hollender, Founder and CEO of Hollender Sustainable Brands.
Joel Makower, Chairman and Executive Editor of GreenBiz Group Inc., who also keynoted the conference with a presentation entitled The State of Green Business.
Mathis Wackernagel, Co-Creator of the Ecological Footprint and President of Global Footprint Network, was also inducted into the ISSP Sustainability Hall of Fame, but was not able to join the group in Denver.
Hunter Lovins, in her inimitable fashion, riveted the attention of the audience when she shouted from the podium during the Wisdom Panel, "Get prepared for a !#@% storm! If we continue to conduct business as usual, we are looking at a collapse of all living systems!"
Conference attendees had the opportunity to learn from and contribute to 18 different panel presentations, break-out sessions, plenaries, keynote presentations and workshops throughout the two-day conference. For a complete summary of conference activities, please visit https://www.sustainabilityprofessionals.org/issp-conference-2014.
ISSP would especially like to thank the sponsors and exhibitors who helped make the conference possible. They are:
Presenting Sponsor: Dan Catlin of The Jigsaw Fund.
Speaker Sponsors: Arpin Group, Xcel Energy.
Meal/Break-Out Session Sponsors: Cisco, IHS and ISSP board members Paul Brown, Sarah E. Lewis, PhD and Laurel Sukup.
Exhibitors: Bard Sustainability MBA, Crouse and Associates, Everblue, FOR Solutions, GreenOX Pallet Technology, IREM Sustainability Program, Presidio Graduate School, Nokero Solar Light Bulbs, PennVest, Patel College of Global Sustainability, Virginia Tech.
Premier Media Sponsor: RenewableNow.biz.
Media Sponsors: BioCycle, Environmental Leader/EnvironmentEnergyPro, GreenBiz.com, Triple Pundit.
About ISSP
The International Society of Sustainability Professionals (ISSP) is the world's leading professional association for sustainability professionals. ISSP is a member-driven association committed to moving the profession of sustainability forward through building strong networks and communities of practice. Webinars, online courses, a sustainability certificate, sustainability professional's body of knowledge, special reports, resource directories, and salary surveys are just a sampling of the rich content offered to members. Formed in 2007, ISSP boasts hundreds of members from every region of the world. Members share resources and best practices, and develop themselves professionally. For more information about ISSP and its offerings, please visit http://www.sustainabilityprofessionals.org.