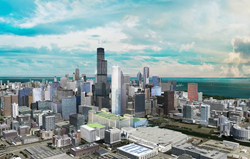 We are delighted to present this exceptional opportunity to investors and to further progress one of the largest urban renewal projects in United States' history.
Chicago, IL (PRWEB) December 09, 2014
Savills Studley, U.S. subsidiary of the premier global real estate services firm Savills, is pleased to announce the opportunity for international, national and local investors to participate in the acquisition or joint venture of Chicago's historic Old Post Office building and surrounding land parcels with current ownership, International Property Developers North America (IPDNA).
Comprising over 12.6 acres and now fully entitled for over 10 million square feet of mixed-use accommodation, the site has been assembled and master-planned by IPDNA, who last year secured revised entitlements that enabled development to proceed immediately. Designed to maximize the unique qualities of the historic Old Post Office building, the site master plan provides for a fully integrated mixed-use development that also includes a new retail podium and three striking new mixed-use towers. With permission to build up to 6,769 residential units and 1,240 hotel rooms in addition to substantial state-of-the-art office and retail components that are expected to comprise up to 3.0 million square feet, the site represents one of America's most exciting mixed-use development projects, given its riverfront position, unrivaled transport connections and gateway location in downtown Chicago.
"My company and our team of consultants have worked long and hard, with full support from the Chicago City Council, to secure an excellent and innovative rezoning and a new planned development for the Old Post Office Site," says IPDNA's Chairman, Bill Davies. "We are delighted to present this exceptional opportunity to investors and to further progress one of the largest urban renewal projects in United States' history."
The Old Post Office Site is an unbroken 4.5 block prime riverfront development site in downtown Chicago, centrally located immediately to the south of Union Station in Chicago's dynamic and rapidly growing West Loop submarket. Stretching from Van Buren to Harrison Streets and bridging the Eisenhower Expressway, the size and scope of the approved development allows for a unique, fully-integrated live-work-play environment that can be linked directly to Chicago's most important road, rail and subway networks. Offering huge project flexibility from a timing, scale and use perspective, the Old Post Office Site provides investors with a one-of-a-kind multi-faceted and unbranded platform to deliver a best-in-class 'destination' development that will accommodate the needs of Chicago's residents, tenants and visitors for generations to come.
About Savills Studley
Savills Studley is the leading commercial real estate services firm specializing in tenant representation and associated services. Founded in 1954, the firm pioneered the conflict-free business model of representing only tenants in their commercial real estate transactions. Today, supported by high quality market research and in-depth analysis, Savills Studley provides strategic real estate solutions to organizations across all industries. The firm's comprehensive commercial real estate platform includes brokerage, project management, capital markets, consulting and corporate services. With 25 offices in the U.S. and a heritage of innovation, Savills Studley is well known for tenacious client advocacy and exceptional service.
The firm is part of London-headquartered Savills plc, the premier global real estate service provider with over 27,000 professionals and over 600 locations around the world. Savills plc is listed on the London Stock Exchange (SVS.L). For more information, please visit http://www.savills-studley.com and follow us on Twitter @SavillsStudley and LinkedIn.
About Savills Studley Cross Border Investments
Savills Studley Cross Border Investment (CBI) is an advisory practice, combining our new Savills Studley relationship and Savills' existing US and International presence. The group is tailored towards foreign investors who require specialized advisory and technical services in the United States, and assists global clients with all aspects of their investment initiatives, including, but not limited to: Strategy, Buy-Side, Debt Structuring and Disposition services. CBI has successfully advised clients on approximately $3.5 billion of US commercial real estate transactions since 2009 and continuously collaborates with the network of Savills Investment professionals around the world.
# # #