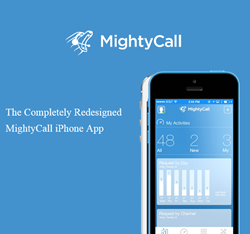 "The new interface helps streamline how I contact my customers and how they contact my business." -Kevin Lake, AquariaGuru.com
Seattle, WA (PRWEB) December 08, 2014
MightyCall announced the launch of its redesigned mobile app for iPhone 6 and its beautiful! MightyCall has been making waves in the call-routing industry and are quickly solidifying a leading position in their market. Putting their customers first in everything they do is one reason they are growing so quickly.
"We're always listening to the feedback our customers. The importance of an easy to use, yet beautifully designed app came through loud and clear." said Andy Gundel, Customer Service Manager for MightyCall, Inc. "We redesigned the app with focus on usability and design, in turn, allowing business owners to more efficiently manage their company, teams and customer requests while on the go."
The MightyCall app has a completely redesigned user interface and improved it's navigation across the app, as well as updated the dialpad, making it easier to access existing contacts.
MightyCall is helping entrepreneurs of all levels successfully manage their customers by providing a modern solution for customer service in a multichannel world.

Earn instant credibility and customer trust with a virtual receptionist, custom call menus, and personalized greetings.
Never miss a customer request by personalizing how incoming calls, tweets, messages and other channels are routed to maximize customer responsiveness.
Link all current phone numbers and other channels so customers only need to remember one way of contacting your business.
Click here to learn more.