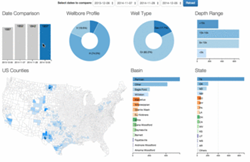 Houston, TX (PRWEB) December 07, 2014
To no surprise to an experienced oilfield professional, rig count dropped a few rigs this week. The decline was all oil wells. Everyone is keeping a close eye on the WTI and Brent prices to understand the impact to their business and customers.
This week Permian Basin is +2 compared to previous week and +95 compared to last year at this time. Eagle Ford is -3 compared to last week and -20 compared to last year. Click here to see the interactive weekly insights report.
Bakken has 189 rigs running -2 from last week but +10 compared to a year ago. The Marcellus shale was flat this week at 82 rigs and is -4 compared to last year.
energent-rig-count-insights
Mississippian shale play was flat this week and -4 compared to last year at this time. Niobrara is -1 this week and +13 from a year ago. These 6 shale plays account for 64% of the rig activity in the U.S.
Granite Wash +4 this week and +1 compared to a year ago. Also, Utica shale play was flat this week and +11 from a year ago.
Be Careful of Seasonality in Monthly Numbers
Several media reports indicated a significant drop in drilling permits. Due to the Thanksgiving holidays, there is -26.1% drop in the work days assuming a 2-day Thanksgiving work week.
Pioneer in the Permian
According to Baker Hughes rig count data, 31% of the rig activity was in the Permian Basin. As of this writing, there has not been a drastic increase or decrease in rig activity for the Permian.
Pioneer Natural Resources (PXD) will "aggressively solicit cost reductions from service companies," according to their investor meeting earlier this month. Pioneer continues to focus on production growth and transition drilling activity from vertical to horizontal wells. The company is a prime example of operator acting swiftly to focus drilling & completion spend on core assets.
No doubt operators and service companies are feeling the price pressure. Several operators are warning investors of uncertainties in the market, hedging their production, and trimming budgets.
Rigs not a meaningful measure in Eagle Ford
Eagle Ford has seen a slight drop in rig activity over the last several months; however, we do not believe the level of overall drilling activity is changing. For example, Sanchez Energy (SN) cites significant cost savings with pad drilling and zipper fracs. At the same time, Sanchez Energy is increasing proppants and changing fluid volumes resulting in improved well production.
Sanchez Energy expects to cut their Marquis area in the Eagle Ford by 1.0 rig over the next year but other areas remain unchanged.
A walking rig in the Eagle Ford is capable of drilling 4, 6, 8, and 10 well pads depending on the operator's well and facility designs. The amount of pad drilling has increased significantly in the Eagle Ford. Our research indicates that comparing the Q3'13 to Q3'14 shows that 2-well pads increased by 16% and 4-well pads increased by 43%.
The combination of rig technology advances with the lean manufacturing mindset is yielding results for operators. The notion of a single rig drilling one well is history.
About Energent
Energent Group is a market research firm focused solely on our clients' needs for oil and gas data and research products. We help companies gain energy intelligence and insights through market research, Upstream advisory, and industry expertise. Our research focuses on the unconventional plays, specifically, Permian, Eagle Ford, Wolfcamp, and Bakken. For more information, please visit http://www.energentgroup.com.