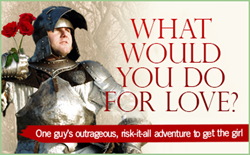 'I knew that whenever I would propose to my wife, I would want to do something amazing and extravagant, but I never thought it would include a wedding. I don't know any guy who wants to wake up and plan a wedding.' - Ryan Leak
(PRWEB) December 08, 2014
Romantic proposals and the extent people are willing to stretch for love will be explored at Lifetree Café during the week of December 14th.
The Lifetree program, titled "What Would You Do for Love? One Guy's Outrageous, Risk-It-All Adventure to Get the Girl," features a filmed interview with Ryan Leak, whose girlfriend, Amanda Roman, once said she had a dream to get engaged and married on the same day.
In the interview, Leak explains he knew he wanted to make Amanda's dream come true, even if it wasn't what he had always envisioned.
"I knew that whenever I would propose to my wife, I would want to do something amazing and extravagant, but I never thought it would include a wedding," says Leak. "I don't know any guy who wants to wake up and plan a wedding."
Lifetree Café national director Craig Cable explained this Lifetree session offers attendees a unique opportunity to discuss how love has impacted their life.
"Not everyone may have gotten engaged and married on the same day, but everyone has been affected by loving relationships in some way," said Cable. "By hearing Ryan and Amanda's story, it opens up the door for people to share stories of their own."
Lifetree Café is a national network of venues where people gather for conversation about life and faith in a casual coffeehouse-type setting.
Lifetree Café locations and times may be found at lifetreecafe.com.
Watch video preview: http://lifetreecafe.com/#/topics/121414.
###