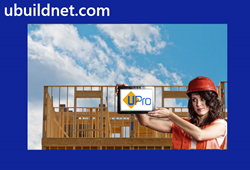 Cloud based software designed specifically for the construction industry.
Bayville NJ (PRWEB) December 07, 2014
The Universal Building Network http://www.ubuildnet.com has announced the release of UPro, an affordable, easy-to-use cloud-based construction management solution designed to meet the 21st century needs of any size construction company. UPro is construction software for handling projects, estimates, proposals, work orders, purchase orders, change orders, invoicing, and more, with easy-to-use templates customizable with the contractor's logo and branding. Seamlessly integrated with the communication, networking, and marketing features of UBuildNet.com, UPro lets construction professionals manage daily business operations from any Internet-connected PC, laptop, tablet, or smart phone whether they are in the office, on the road, with a customer, at a construction site, or home finishing up some business.
Says John Clark, UBuildNet's founder and CEO, "UBuildNet's team of construction pros share a vision for a specialized construction software product that works the way the construction industry works. UBuildNet started with social-media style communication and business networking. Now, as part of the expanding UBuildNet.com construction software suite, UPro now manages projects wherever the construction pro may be throughout the day."
With the integration of UPro, http://www.ubuildnet.com has taken a leap towards a strategic goal to provide a single, integrated source for navigating the three critical components of construction business operations: contact and relationship management, project management, and financial management (which is planned for future release). Says Clark, "The concept for UPro came from frustrations with construction software products that didn't work the way construction pros work. Also, the software out there was either too limited, too hard to use, or too expensive. The social networking and marketing features of UBuildNet use communications, networking, and are similar to those of popular social media sites like Facebook, LinkedIn, Instagram, and Twitter, but customizes them expressly to meet the needs of the construction industry." Adds Clark, "The addition of UPro as a project management tool makes UBuildNet a comprehensive solution. It's completely integrated with the communications and networking aspects of daily construction operations."
Clark offered a situation familiar too many construction pros that illustrates how the UBuildNet.com software suite works: "Contractors and industry professionals spend much of their time split between traveling, job sites, and the office. Software needs to work everywhere, it needs to be simple and easy to use, and it requires integration."
UPro defines what the future of construction technology means to the construction industry; affordable, easy to use yet powerful, and integrated with a full suite of networking and management tools.