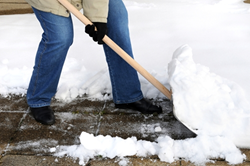 Planning a date range is also a good idea instead of scheduling to move in one day
Chicago, IL (PRWEB) December 06, 2014
Moving during winter doesn't have to be difficult. Sure, there is snow and ice and more than likely traffic will be less than ideal, but don't let these issues be a hindrance. Take the time to plan accordingly. Be ready for a move, and it will go smoothly.
The Federal Savings Bank, a Midwest based lender, encourages readers to consider the tips below for making a winter move as efficient as possible:

Don't let the weather dictate the schedule: Be prepared for ice by salting all of the entrances at both the current residence and the new home. Additionally, be ready with the snow shovel. Remove obstacles or dangers from those carrying boxes. Planning a date range is also a good idea instead of scheduling to move in one day. Allow some breathing room in case a snowstorm decides to roll in and throw the entire moving plan out of whack. Be ahead of that storm and any other sudden moves the weather will make.
Pack appropriately: Pack the items that aren't needed first, such as summer clothes, patio furniture and bicycles. If there is time, move these items ahead of the others to keep the process more organized. Make sure the winter clothes and boots are accessible because they will be desired first upon arrival at the new place.
Turn utilities on: Don't wait until moving day to see if everything works at the new location. Get over there early, turn on the heat, and make sure the water is running and the kitchen appliances are in order. Arriving at the new front door only to find the house is cold is not a good way to start. The family should be walking into a warm, functioning home.
Have cleaning supplies: While one would like to assume that none of the cardboard boxes will be set on snow or wet patches, it is likely that a few will. Designate a spot at both moving locations for items such as towels and rags. These will be incredibly handy when needed to dry a box quickly and don't have the time to take everything out of it.
Dress appropriately: Carrying boxes is a lot of work, especially when going up and down stairs. Don't wear a t-shirt out of anxiety of sweating, as the constant changing between cold and warm air can cause one to become sick. Similarly, don't leave a heavy coat on because one knows they are just going back outside once they set that box down. Dress in layers to keep the body temperature at balance even when continuously going in and out of the cold weather.
The Federal Savings Bank believes moving into a new home should be an exciting time. Don't let winter take away from the thrill of the move.
For more information on being in charge of a winter move or securing a loan for a new home, contact The Federal Savings Bank, a veteran owned bank.