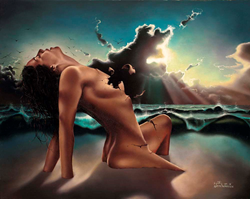 A private art investment consortium announces a 2016 art world tour for Jim Warren's most world-famous paintings - "Sexual Explosion," "Re-birth," "Running Wild" and "Eternal Youth."
NEW YORK, NEW YORK (PRWEB) December 16, 2014
American artist Jim Warren's "Sexual Explosion" (1976) and "Re-Birth" (1976) are ranked the top 2 world's most famous and controversial nude portraits in modern contemporary art, according to official Google Images based on their 11 Billion pictures and photos data base. Both "Sexual Explosion" and "Re-Birth" portrait paintings will be on public exhibition for the first time ever across the globe. In 2016 a high-profile art world tour is planned for visits to leading art centers, including events in museums, art galleries, festivals and fairs, hotel and resort showrooms, along with news media conferences, and television and radio interviews, disclosed Stan Zipperman, spokesman for the private art investment consortium that owns the Jim Warren original canvases.
The Jim Warren "Sexual Explosion" portrait is displayed online at the Art Collectors Website, a long-standing modern contemporary art showcase and video site. The controversial and groundbreaking artwork was recognized in 2011 as the world's most famous nude painting since the nudes of Dali, Picasso and Modigliani. "Sexual Explosion" depicts a reclining nude figure on a Dali-inspired surreal beach or surreal ocean or in a mystical other-worldly setting while the girl in the painting is in a state of exploding erotic ecstasy.
The owners would also be ecstatic if the Warren image should become "This Century's Mona Lisa" as has been predicted because the picture has achieved top rankings in popular Google Images art categories in less than 40 years, compared to the Mona Lisa portrait which has long been famous, but with a head start of over 500 years in the making. Add to this the fact that Jim Warren is usually the only living artist in the listings and usually the only American born painter as well in the modern contemporary art genre. However, Lucien Freud's nude portrait. "Benefits Supervisor Sleeping," painted in 1995, is newer than "Sexual Explosion" and "Re-Birth" and is currently the nearest competitor in the Google Images running for the top honors in the most famous nude art categories.
"Re-Birth," the 'other' world-famous Warren nude portrait, equally controversial, which is known by insiders in the art establishment for its uncanny glowing aura, depicts two adult female figures in a surreal ocean setting. One nude is in an early stage of disintegration while the other nude figure is in a newly-reborn state as a young adult.
.
"Running Wild" (1977), is Jim Warren's prototype painting for his "Against the Wind," the 1981 Grammy Award winner for album cover art. The Bob Seger album went on to sell over six million copies worldwide, thus making it the most famous wild horses icons in modern times,
"Eternal Youth" (1977), cited as one of the ultimate cosmic male nude portraits in modern contemporary art, is perhaps the most highly-detailed of Warren's images over the years. Along with "Running Wild," the picture will likely be added to the art world tour, it was further revealed by Zipperman.
All four paintings captured the imagination of the worldwide public, becoming world-famous on Google Images, Yahoo, Bing, and YouTube Music and Art Videos and in the news print media from simple photos from the last century. This happened in spite of this fact that the original canvases were being kept in a private art vault for almost 40 years out of public reach.
However, now all the art pieces have been digitally photographed, detailing Warren's masterful and mystical craftsmanship ready to be re-discovered in person as the tour visits London, England; Paris, France; Geneva and Zurich, Switzerland; Milan, Italy and Amsterdam, the Netherlands. The private art investment consortium reports that also under consideration for the tour are the art capitals of Shanghai and Hong Kong, China; Mumbai, India; Buenos Aires, Argentina; Rio de Janeiro and Sao Paulo, Brazil; and Sydney, Australia.
Following Warren's creation of his controversial nude portrait "Sexual Explosion" in 1976, a frenzied uproar ensued and the painting was banned from public exhibition during America's Sexual Revolution. Sides were drawn in the art establishment. Warren was about to become a cult icon for being a groundbreaking and fearless emerging artist. The rest is history!
Cut to the chase! It is almost 40 years later, but the controversy still rages on. Now there is a current buzz in the new art establishment that somehow "Sexual Explosion" could eventually surpass the "Mona Lisa" in fame sometime in the far future but still within this century. The rest could be history. Stay tuned.
Official Google Images Art Rankings as of December 2, 2014:
1. World's Most Famous Modern Nude Painting
Sexual Explosion - #1, #4, #14, #46
Re-Birth - #2, #3
Benefits Supervisor Sleeping - #7
2. World's Most Famous Nude Painting
Sexual Explosion - #2, #22, #23, #33
Re-Birth - #3, #12, #66
Benefits Supervisor Sleeping - #8, #21
3. World's Most Famous Popular Nude Painting
Sexual Explosion - #2, #14, #17, #19, #26
Re-Birth - #7, #11
Benefits Supervisor Sleeping - #3, #16
4. World's Most Famous Surreal Nude Painting
Sexual Explosion - #2, #4, #5
Re-Birth - #1, #3, #9
Benefits Supervisor Sleeping - 0
5. World's Most Famous Contemporary Nude Painting
Sexual Explosion - #3, #12, #13, #20
Re-Birth - #2, #10
Benefits Supervisor Sleeping - #5, #34
6. World's Most Famous Controversial Nude Painting
Sexual Explosion - #2, #3, #10
Re-Birth - #1, #8
Benefits Supervisor Sleeping - #5
7. World's Most Famous Pop Art Nude Painting
Sexual Explosion - #1
Re-Birth - 0
Benefits Supervisor Sleeping - #50 +
8. World's Most Famous Cubist Nude Painting
Sexual Explosion - #49, #98 (PLUS 3 OVER #100)
Re-Birth - #19
Benefits Supervisor Sleeping - 0