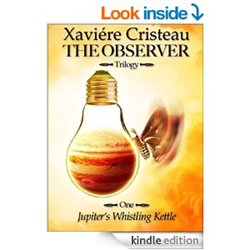 New York, NY (PRWEB) December 08, 2014
New author Xaviére Cristeau today released "The Observer," the first book in a ground-breaking trilogy. An intricate weave of conspiracy thriller odyssey and science, "The Observer" blends fact and fiction into a striking pattern of parallels. Incisive and robust in its research, "The Observer" is a thought-provoking thriller of wide angles and long shadows. A treasure-house of information brings to light the most terrifying question ever to be unearthed in the modern world.
Book One, "Jupiter's Whistling Kettle" introduces protagonist, Professor Michael Hart, an English mathematician and astronomer teaching in Florida in 1968. A brilliant scientific observer, Hart is the first man to unlock one of the solar system's most damning secrets. He presents his thesis to NASA. Alarm bells ring as his research is met with hostility and suspicion. He finds himself branded an intellectual communist agitator and the focus of an FBI manhunt across the South.
Hart escapes to Mexico, where he is initiated into an indigenous shamanic ritual. He attains the ability to remote-view top secret government documents undetected. His revelations are explosive. He discovers NASA and the US military industrial complex are controlled by a secret higher order with an unthinkable agenda. Beyond Apollo's shining facade, the US is being transformed into a space-borne nuclear strike force. The Earth itself is earmarked to become a revolving battle star with deep space strike capabilities. In doing so, humanity has unwittingly sown the seeds of the Armageddon.
At the launch of Apollo 13, Hart returns to Florida. He risks his life in a bold act of heroism to warn the American people of the extreme danger. But how will a nation mesmerized by Apollo's grand ambition believe the remote cry of a fugitive outsider?
"The Observer" is available now at http://www.amazon.com/dp/B00QMW6JGY .
###