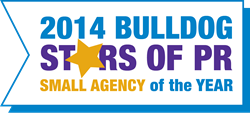 AR|PR tells stories about tech entrepreneurs and companies that elevate their brands and the entire ecosystem. I am pleased to see that their quality work in the tech community is being recognized by awards.
ATLANTA (PRWEB) December 08, 2014
Concluding a year of dynamic growth, technology public relations and integrated marketing firm AR|PR announces that it has secured five awards for client results, two for executive leadership, and received designation as national Small Agency of Year – a remarkable feat for a PR firm that was founded just two years ago.
AR|PR's 2014 industry awards include:
Small Agency of the Year
PR industry organization, Bulldog Reporter's Stars of PR Awards for Outstanding Achievement by Communications Agencies were judged exclusively by a team of working journalists, who assessed agencies on the basis of industry leadership, business acumen, creativity, command of media and technology, and credit to PR and corporate communications. In the field of public relations – there's no greater honor than being recognized for quality work by journalists themselves.
Public Relations Society of America (PRSA), New Orleans Chapter – Fleurish Award of Excellence
Each year, PRSA's New Orleans Chapter celebrates the city's best PR work from the previous year. AR|PR was recognized with an Award of Excellence for our client results on behalf of Cellcontrol at the 2014 Consumer Electronics Show (CES).
PRSA, Georgia Chapter – Phoenix Awards of Excellence
PRSA's Georgia Chapter is the second largest in the country, and each year honors the state's biggest brands, agencies and practitioners at its Phoenix Awards. AR|PR brought home two Awards of Excellence for our client results at the 2014 CES, as well as our integrated communications program on behalf of client ShopVisible.
Technology Association of Georgia (TAG) – Marketing Awards Finalist
TAG's annual Marketing Awards is the premier event for Atlanta's tech marketing community with awards bestowed to the top technology marketers. AR|PR was a B2B Marketing Innovation finalist, recognized for our agency growth, client results and company culture.
Atlanta Marketing Association (AMA) – AMY Award Finalist
The annual AMA AMY Awards honor marketers that have taken ordinary ideas, situations, and products and made them extraordinary. AR|PR was recognized for our integrated marketing campaign on behalf of Competitive Sports Analysis' fantasy sports brand, scoutPRO®, and was the only tech PR firm to achieve finalist standing.
Silicon Bayou News – Silicon Bayou 100 winner
The fourth annual list honors the 100 most influential and active people in tech and entrepreneurship throughout Louisiana. AR|PR's vice president, Blair Broussard, was recognized for her contribution to the South Louisiana tech community through her ongoing support, participation and in-kind sponsorships of the many technology events, conferences and innovative companies throughout the region.
New Orleans Millennial Awards – Business Finalist
The annual Millennial awards honor dynamic young professionals in the Greater New Orleans area who contribute to the community through public service, make significant strides in business sectors, and serve as cultural ambassador. AR|PR's Blair Broussard was a finalist in the business category, recognized for bringing AR|PR's innovative agency culture to the city, and for the ongoing support of the growing New Orleans technology community and its impact on the city's economic development.
"AR|PR tells stories about tech entrepreneurs and companies that elevate their brands and the entire ecosystem. I am pleased to see that their quality work in the tech community is being recognized by awards," said Sig Mosley, managing partner of Mosley Ventures and widely regarded as "The Godfather of Angel Investing."
"Our industry accolades are attributed to one factor, and one factor alone – our team. Our first employees came to work for AR|PR not because we had a fancy office space or fat pension plans – they came here because they recognized a special opportunity in the marketplace and had a strong desire to use their skill set to help innovators #makenews," said Anna Ruth Williams, founder and CEO of AR|PR. "Together, this team – or 'army of awesome' as well call ourselves – is many things, but above all, it's nimble, patient, tenacious and dedicated. Each day we land media placements, grow social media followings and generate dynamic content that all drives industry leadership and sales for our clients. We're honored to see these results recognized by industry organizations and look forward to growing our award-winning reputation in 2015."
In 2014, AR|PR nearly tripled its growth and more than tripled its team of talented tech marketing pros. As a result of landing more than 250 million media impressions and growing social media channels by double and triple digits, 100 percent of clients said they would recommend AR|PR to their networks. To learn more about AR|PR's current client roster and services, visit http://www.arpr.co.
###
About AR|PR
Established in 2012, AR|PR is the go-to public relations firm for the Southeast's most cutting-edge technology companies. With offices in Atlanta and New Orleans, AR|PR's technology clients represent multiple industry sectors, including mobile, SaaS, healthIT and cyber security. From corporate messaging to social media to media relations, AR|PR has a proven record of reaching audiences and building brands. For more information on the award-winning agency, visit the company in Atlanta Tech Village and LaunchPad, and online at arpr.co and @AR__PR.