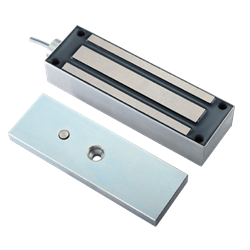 (PRWEB) December 15, 2014
Today, Locks-Magnetic.com launched its new waterproof magnetic locks. The company is now offering great discounts on our new products, and it hopes to expand its international market through such a promotion.
According to Ms. Amy, the CEO of Locks-Magnetic.com, their magnetic locks are selling well in the global market recently; the company will expand its production line to more magnetic lock models. She said, "Our magnetic lock models come with many flexible applications and have a range of activation strength, from 100lbs to 1200lbs. They are specially designed for some customers who have special requirements in quality. Our magnetic locks, with Independent intellectual property rights, are the most advanced and stable magnetic locks in the market."
Locks-Magnetic.com is one of the most outstanding magnetic lock suppliers in the world, so the company has the power to ensure customer satisfaction. Now, the company is making every effort to create the best magnetic locks for the global customers. The slogan of the current special offer is, "Bring huge benefits for all our clients." The most recommended items in this range are 60KG Magnetic Lock, 280kg (600Lbs) Single Door Magnetic Lock and 70KG Single Door Magnetic Mini Lock.
The 500kg(1200Lbs) single door magnetic lock is very popular. Some details about it are as follows:
Collinear Load Test 500kg x 2,1200Lbsx2.
Dual Voltage 12 or 24 VDC (optional).
The Standard Voltage is 12VDC when Finished.
MOV Provides Reverse Current Protection.
Suitable For Wooden Door, Glass Door, Metal Door, Fireproof Door.
LED Indicates the Door Status.
Lock Status sensor (NO/NC/COM).
Anti-Residual Magnetism Designed.
High Strength Material, Anodized Aluminum Housing.
Design without Mechanical Failure.
Increase the holding Force, Dual Insulative Housing.
About Locks-Magnetic.com
Locks-Magnetic.com is a leading online store of high quality magnetic lock products. With an aim of offering the most affordable and convenient products, the company often announces new innovative products. In addition, it launches big promotions at its one stop website frequently. Customer service is the top priority of this professional supplier.
More details about the company and its high quality products can be found at http://www.locks-magnetic.com/.