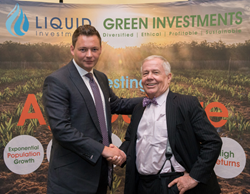 (PRWEB) December 07, 2014
We are now living in a world beset with new challenges that require innovative thinking and a more secure approach to investing.
Anthony J. Archer launched this year's Primal Investing Summit with an enlightening presentation on how investments with an ethical focus are perfectly positioned to take advantage of the doubts pervading the current economic climate.
Set against a backdrop of minimal inflation and interest rates, fundamental flaws in the current financial system including rising government debt, and fast declining returns for traditional assets, Liquid's solution, Primal, can thrive, offering real assurance at this time of increasing uncertainty.
Looking beyond rigidly defined financial markets, Primal identifies some of the main problems associated with the planet and suggests some of the solutions required for a prosperous and sustainable future.
In his presentation, Anthony J. Archer discussed how "throughout history, investing in agriculture has been the one consistent way to get yourself through a crisis."
The Primal Investing philosophy reflects mankind's fundamental need for sustenance and survival. A rapidly increasing global population, expected to reach 10 billion by 2050, will spur the demand for more food, precisely at the time when the resources to provide it will be under pressure.
Jim Rogers, Keynote Speaker and Chief Guest at Liquid's Primal Investing Summit, revealed how "the supply and demand for agriculture is completely out of whack."
By investing in asset-secure commodities in Brazil, the key strategic agricultural power of the twenty-first century, investors can hedge against the volatility and low visibility across other markets and return to value creation.
For more information regarding Liquid Investments' Primal Investing philosophy, view Anthony's presentation here. If you would like to get in contact with one of their Investment Consultants, please request a callback.
Note to Editors:
Liquid Investments is a provider of global investment solutions allowing institutional and private investors the opportunity to accumulate wealth through safe and secure alternative investments in emerging markets.
Founded in 2006, the organisation is headquartered in Knightsbridge, London, and with an office in Fortaleza, Brazil.