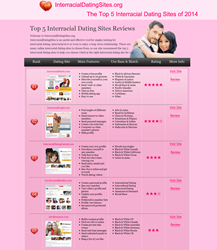 Los Angeles, CA (PRWEB) December 08, 2014
'Interractialdatingsites.org', a renowned review site related to the interracial dating platforms is helping users from across the globe in selecting the right platform in accordance to their needs, preferences and amount they are willing to spend. The site provides detailed reviews while considering a number of different variables and helps the viewers take an informed decision. The platform also arranges the sites in a list from best to worst thereby helping the decision making process of viewers.
The website also provides a list of features offered by each platform along with details related to user base and matches possible. Those interested in opting for the services of an interracial dating site can browse through the features and user base and match in a matter of few minutes and identify the best one according to their requirements. The online platform also has a link pointing to the reviewed site for the ease and convenience of users.
Those interested in going through the detailed review just need to click on Review link. Details related to features, membership plans and editors overall rating along with star rating of different features are provided. A special section titles Editor's note provides valuable insights related to the reviewed site and can play a vital role in taking a decision, users can also leave a star review about different platforms and average rating is also displayed along with editor's rating. Currently, the top five slots are occupied by InterracialMatch.com, InterracialCupid.com, InterracialdatingCentral.com, LoveCrossBorders.com and AfroRomance.com.
When contacted, a representative of the company said, "With the rise in demand of interracial dating, the number of sites opting the services has also increased at a rapid pace. Selecting a right alternative can be a little difficult and browsing each platform to understand details before reaching to c conclusion consumes a lot of time. This is where Interractialdatingsites.org comes to rescue."
About Interractialdatingsites.org:
Interractialdatingsites.org is an online platform providing reviews of different interracial dating and helping viewers and informed decision.