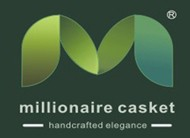 (PRWEB) December 09, 2014
Recently, MillionaireCasket.com, a professional company of funeral products, has announced its new cherry caskets. All the new items are now offered at greatly discounted prices, up to 30% off.
The company has received many positive comments from its customers. "I have ordered products from MillionaireCasket.com for years. It saves a lot of time for me. I have met the CEO for three times. He is a good person and I believe that his team is as reliable as he," Ramon, a casket distributor from the UK said.
"MillionaireCasket.com is a professional supplier of funeral products. We are now busy selling our new items of cherry caskets. All of these cherry caskets come with low shipping costs. Additionally, customers who place an order have the chance to get an extra discount. All of our designers are experienced, so you can certainly trust us," the CEO of the company says.
The new cherry caskets come in a range of sizes and weight measurements. The interior of these caskets are treated with chemicals to safeguard it from rusting or corroding. The caskets can be ordered in any desired measurement and weight. Along with cherry caskets, it also offers several other products related to funerals. Hence, it is a one stop funeral supplier.
About MillionaireCasket.com
MillionaireCasket.com is a leading casket company that focuses on the business of casket wholesale. This company offers an exquisitely crafted line of all kinds of metal caskets, solid wood caskets, veneer caskets, cremation caskets, rental caskets, orthodox caskets, infant or over-sized caskets and European style coffins. The standard quality control policy is strictly applied here, and a third party quality assurance is also available. More information can be found at http://www.millionairecasket.com/69-cherry-caskets.