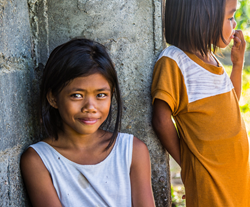 "Mercy Corps' work in the Philippines and around the world focuses on creating strong local partnerships and helping people rebuild for the long run."
Portland, OR (PRWEB) December 07, 2014
As Typhoon Hagupit, one of the most powerful typhoons of 2014, made landfall in the Philippines, the global humanitarian agency Mercy Corps was already initiating its emergency activities, helping residents prepare for the storm's arrival as well as for its aftermath.
"We have reached out to about 21,000 people who live in areas most at risk from the typhoon," says Erynn Carter, Mercy Corps' Philippines country representative. "We have shared early warning and preparedness messages with residents and provided them with mobile phone credits so that they can contact family and friends."
Building on its response to Super Typhoon Haiyan in 2013, Mercy Corps is gearing up to assist the country and its citizens yet again. Last year's efforts covered many of the same remote, hard-to-reach areas of the Philippines that are in the path of Hagupit. After Typhoon Haiyan, Mercy Corps provided emergency food, water and essential supplies to more than 18,000 people, repaired and improved water and sanitation services for 5,000 people on remote islands, and provided electronic cash transfers to help nearly 26,000 families buy food and other essential supplies, repair their homes and restart businesses.
"Mercy Corps' work in the Philippines and around the world focuses on creating strong local partnerships and helping people rebuild for the long run," says Carter. "With the local partnerships we put in place last year, we can quickly reach those who may need our help again."
The super typhoon – known locally as Ruby – first made landfall Saturday evening on eastern Samar Island, slightly north of last year's storm path. Although somewhat weakened as it approached land, the typhoon is currently dumping massive amounts of rain on the central parts of the Philippines, increasing the risks of flooding and deadly landslides. Hundreds of thousands of people have evacuated from dangerous coastal areas.
About Mercy Corps
Mercy Corps is a leading global humanitarian agency saving and improving lives in the world's toughest places. http://www.mercycorps.org.