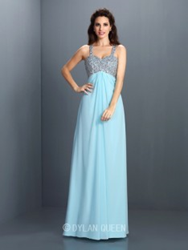 (PRWEB) December 14, 2014
Dylan Queen, a professional company of women's dresses and related accessories, has recently added a new selection of elegant long prom dresses to its online shop. At the moment, all of them are provided at discounted rates, up to 80% off.
These stylish, attractive pieces are suitable for the conscientious consumer who don't want to compromise their ideals. The style editors of Dylan Queen have handpicked some of the most coveted pieces of the season. The aim of the special offer is to show Dylan Queen's thanks to worldwide customers. It is worthy to mention that all these graceful prom outfits are made from high quality materials.
Dylan Queen wants to help every lady to be more charming and trendy. Its CEO says, "We are quite happy release our new collection of long prom dresses. We are now providing incredible savings on these brand new items. All the international clients can save a lot of money when shopping on our website. Over 300 different kinds of prom outfits are now offered in our online store, and most of them are available at discounted rates. Please note that the current promotion will come to an end on Jan. 21, 2015."
Dylan Queen has been devoted to elevating style and self-perception while keeping it fun and inclusive of all trends. As is commonly noted, the best new product ideas always come from clients.
About Dylan Queen
Dylan Queen is a reliable dress company. At its one-stop website, it offers a wide variety of chic dresses, including prom dresses, evening dresses, bridesmaid dresses, formal dresses etc. Its aim is to provide worldwide customers with fashionable gowns at acceptable prices. It frequently updates its website with new assortments.
For more details of the company and its products, please visit http://www.facebook.com/iDylanQueen or http://www.dylanqueen.com/long-prom-dresses/.