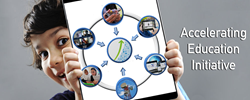 Advancements in technology and the rapid growth of free educational information are creating unprecedented opportunities for students and educators
Annapolis, MD (PRWEB) December 16, 2014
An exciting opportunity in education is emerging due to a combination of major global trends. Advancements in technology and the rapid growth of free educational information are creating unprecedented opportunities for students and educators. To see how this combination can be leveraged to facilitate education, see this short (35s) animated video: http://www.charityhelp.org/aea.
CharityHelp International became so excited about this emerging opportunity that they decided to create the Accelerating Education Initiative (AEI) in collaboration with their partner Think Renewables. This initiative is designed to help students around the world benefit from the rapid growth of free educational content and low cost communication technologies.
The Accelerating Education Initiative was launched on December 7 at a live event that connected several locations by videoconference including Kabul, New York, Washington and San Francisco. The virtual interconnectivity of this launch event highlighted the potential new technologies have to bring people together. It is by using these same technologies that the Accelerating Education Initiative will support the learning potential of students around the world. To view a video of the launch event, visit: link.
CharityHelp International has more than 10 years of experience supporting children in developing countries. Through working with the Afghan Child Education and Care Organization (AFCECO), CHI connects sponsors with Afghan children. Today, CharityHelp International is partnering with a growing network of organizations to create opportunities to accelerate education using the latest technological resources.
Through the Accelerating Education Initiative, students will be able to use eLibraries of educational content and connect with volunteer coaches and teachers across the world via the Internet. In addition to facilitating learning in academic subjects such as math and science, this approach will be used to advance health care and entrepreneurship. An initial pilot of the Accelerating Education Initiative launched earlier this year in partnership with AFCECO. This pilot connected students in Kabul, Afghanistan with volunteer coaches. Given the success of the Accelerating Education Initiative pilot, CharityHelp International is working to expand the program to bring this opportunity to more student groups, coaches, and educational institutions.
To learn more about the Accelerating Education Initiative, please visit.
http://www.charityhelp.org/chi3/accelerating-education-initiative.
Media Relations Contact:
media(at)charityhelp(dot)org