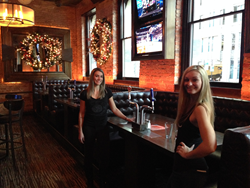 Upgrading our Table Taps was an easy decision. We wanted to add some new features and functionality to how they work as well as improve the overall stability of the system.
Chicago, Illinois (PRWEB) December 09, 2014
Before Bull & Bear entered the Chicago Restaurant scene a few years ago, the thought of pouring your own beer tableside seemed as foreign as the idea of wasabi flavored Kit Kats. These two unique products are in existence today and they both make the World a better place because they are. Why is that, one may ask? Because they are both the products of companies that listen to what consumers want and deliver it.
Bull & Bear is a mainstay in the Chicago Restaurant scene. They have done so by giving their customers what they want; a great experience that comes from great service and tremendous food in a vibrant atmosphere. The recent upgrade to their self-serve beer tables came from another Chicago based company, PourMyBeer.com. In the upper section along the Hubbard Street side of the bar, there are five VIP Table Tap booths. They can be booked ahead of time or just on a 'first come' basis but our advice is to call ahead.
"Upgrading our Table Taps was an easy decision. We wanted to add some new features and functionality to how they work as well as improve the overall stability of the system. The cost to upgrade and update our Table Taps is nothing compared to the price we'd be paying if we didn't ensure that our guests have a great experience every time they visit us," said Homer Villarreal GM of Bull & Bear.
While self-serve beer has been available for years, it may be new to some, so here is a brief rundown of how it works. Each guest is granted access to two beers. If five of-age people are sitting at a table, the table is given access to ten beers cumulatively before the taps automatically close and prevent further flow of beer. Additional access can only be granted by your server. The staff controls every table from one single station near the bar. This ensures that the guests and the server are able to track and manage consumption responsibly.
Laura Faith, Director of Marketing for Dine/Amic Hospitality Group, which operates Bull & Bear added, "Given the length of time Bull & Bear had been originally operating with table tap technology equipped booths, we agreed as a company to re-invest in this for our guests as we have become a well-known staple for self-serve beer."
The Owner & Founder of PourMyBeer.com, Josh Goodman added, "We are excited to be able to add Bull & Bear as a customer. Our company provides the most dependable and easy to use self-serve beer systems in the market and now we get to showcase them at one of Chicago's most successful destinations. It's a win-win for both of our businesses."
"If you are going to watch the game you might as well do it in style with beer taps right at your table. You can enjoy using theme with old friends, as well as let them help you make new ones." Villareal said while there are no plans to add a wasabi and chocolate desert to the menu, they do offer an eclectic menu ranging from truffle mac-n-cheese to free range chicken wings, which should add Bull & Bear to your Chicago 'to-do' list.
http://www.pourmybeer.com is an Innovative Tap Solutions Company. The company was formed in 2009 and made the first commercial mobile self-serve beer tables in the US. It also sells and distributes fixed beer walls, mobile beer walls, fixed draft beer tables and mobile draft self-serve tables. All mobile equipment is made in the USA. Contact sales (at) pourmybeer (dot) com or call 267-323-1100.