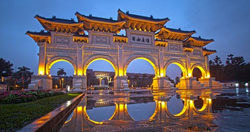 Taiwan's star has risen in recent years as a beautiful, well-developed, and less crowded alternative.
Glendale, CA (PRWEB) December 29, 2014
Goway Travel is inviting Asia globetrotters to tour Taiwan with an exclusive discount on one of its most popular Taiwan tour packages.
Once bypassed by visitors headed to the Chinese mainland, Taiwan's star has risen in recent years as an attractive, well-developed, and less crowded alternative. The island packs a large number of sights into its relatively small size. These include modern architectural gems like Taipei 101, and more traditional sights including temples, shrines and the National Palace Museum, which showcases 5000 years of Chinese art and history. Also distinguishing Taiwan are its natural highlights, such as Sun Moon Lake, Kenting National Park, and Taroko Gorge.
Taiwan's compact size is well-suited to a short getaway such as Goway's Taiwan in Depth, an 8-day Taiwan vacation. Globetrotters who book by December 31, 2014 will save 15% on their own rate when they travel with a friend on this trip between March 1 and June 30, 2015.
Taiwan in Depth makes an attractive and affordable option for March Break, and is well connected to other destinations through Taipei, making it an easy addition to a longer Asia itinerary
Since 1970, Goway has been providing unforgettable travel experiences to Africa, Asia, Australia and New Zealand, idyllic island destinations, polar destinations and Latin America. Today Goway is recognized as one of North America's leading travel companies for individuals, families and groups to select exotic destinations around the globe. Goway has offices in Los Angeles, Vancouver, Toronto, and Sydney (Australia).
For reservations and information, visit http://www.goway.com, or call 1-800-387-8850.