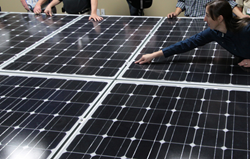 Ambassador Energy's NABCEP pass rate far exceeds the national average
Murrieta, CA (PRWEB) December 08, 2014
Seats are still available for January's class offered by Ambassador Energy and Mission Career College, who have partnered to provide veterans and other qualified students enrollment through the G.I. Bill and Workforce Investment Act. On the back-end of the training, The Veteran Asset assists veterans with placement within the renewable energy sector.
Ambassador Energy (AE) has added 48 hours to their popular Solar PV Design and Installation Course to include more classroom time and additional hands-on labs. At completion, the North American Board of Certified Energy Practitioner (NABCEP) Entry Level Exam is proctored.
The first 80-hour two-week course of 2015 is scheduled for January 12 through 23, and seats are still available on a first come first served basis. The class is designed to give students ample time and attention from Ambassador Energy's Director of Trainer, Catherine Kelso, and staff. Ms. Kelso is a solar expert, who has earned two NABCEP certifications – PV Installer and PV Technical Sales. She also sits on the current committee for NABCEP, which is crafting the criteria for the new NABCEP credential for photovoltaic system inspectors and solar heating system inspectors.
"Suffice to say," said Kelly Smith, president of Ambassador Energy, "Cat is highly qualified and is an amazing teacher. In her time away from AE, she, herself is a student, working toward her Electrical Engineering degree. And, in her time away from the podium at AE, she works for us as a system designer, troubleshooter, sales technical advisor, and installation coach. She cut her solar teeth on off-grid system design in the early 2000's and has grown to become one of the country's most successful trainers. It does not surprise me that, with Kelso at the training helm, Ambassador Energy's NABCEP pass rate far exceeds the national average."
Ambassador Energy is proud to support the 501(c)(3) non-profit organization, The Veteran Asset (TVA), who plays an important role throughout the training process. "TVA connects the dots," continued Smith, "by interfacing with the veteran students from beginning to end. At AE, we are proof of concept, as we have hired, so far, a total of nine veterans, who graduated the TVA program. I can say, first hand, that this program has made a huge impact on so many levels for AE. These veterans are incredible assets to our company!"
Veterans and other qualifying students will, upon completing the 80-hour course, be invited to take the NABCEP EL Exam, which will prepare students for jobs within the solar arena, including; installer, project manager, designer/drafter, sales, administration, information technician, maintenance provider, and more. The course also satisfies 18 of the required hours for admission to the Advanced PV Installer Exam.
The Solar PV Design and Installation course offered in January includes:

Live instruction
Lesson reviews
Hands-on labs with industry-standard tools
Building an operating solar PV system
Multiple quizzes (over 300 practice questions)
NABCEP Entry Level Exam administered on the last day of class
Textbook and NABCEP Entry Level Exam Fee
Classes are scheduled to continue in Murrieta, California, commencing on the second Monday of each month and run 9am until 5pm Monday through Friday. Interested students should contact The Veteran Asset.
About Ambassador Energy (AE)
IREC-accredited training provider with staff certified as NABCEP PV Installers and NABCEP PV Technical Sales.* CSLB #928112: General Contractor B, C10 Electrician and C46 Renewable Energy, providing design and installation of solar PV and solar training throughout the U.S. *fulgham
About The Veteran Asset (TVA)
Tax-exempt nonprofit 501(c)(3)organization, whose mission is to recruit, train and place U.S. military veterans into meaningful careers within the renewable energy sector.
About Mission Career College (MCC)
Approved by Bureau for Private Postsecondary Education (BPPE) with headquarters in Riverside, CA. MCC has campuses in Southern California and China.