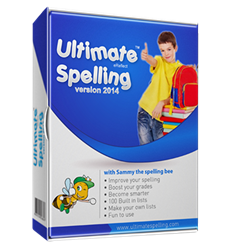 Sexual and domestic abuse and violence are no laughing matter.
New York City, NY (PRWEB) December 09, 2014
eReflect, designer of learn to spell software Ultimate Spelling™, shares an eye-opening video on violence, gendered stereotypes, and victim blaming to raise awareness about the persistence of violence in cultures throughout the world. Children and adults, no matter their age or gender, share many of the same dreams and aspirations. However, as this video illustrates, there are some deeply rooted gendered stereotypes about a child or a woman's place in society that perpetuate sexist, harmful practices of domestic abuse, violence, and inequality.
The spelling program designer shares Our Watch's video to emphasize the importance of overturning these outdated, dangerous viewpoints and replacing them with more progressive ones. Equality among men and women, children's rights, and conflict resolution need to be acknowledged, respected, and advocated instead of being suffocated in sexists stereotypes that take society backwards.
Positive role models need to be highlighted and celebrated in the media and culture, note the eReflect editors. This will significantly help put an end to violence and victim blaming, two phenomena that run rampant in modern societies despite their otherwise progressive attitudes. The number of women experiencing sexual violence and domestic abuse is worryingly high. As the video reveals, one in five Australian women has experienced sexual violence.
Spelling tutor software developer eReflect also reminds people that whenever they see someone being mistreated because of their age or gender, they should try to speak up. Such injustices need to be revealed and redressed if society is to turn the page to a more peaceful chapter where men and women are treated as equal, and violence is never used as a way to resolve issues.
Sexual and domestic abuse and violence are no laughing matter. Unless people speak up about these issues, they may never be addressed, eReflect concludes.
***********
For more information about how Ultimate Spelling software can improve spelling performance for you and your family, please visit the official website at http://www.ultimatespelling.com.
About Ultimate Spelling™
Ultimate Spelling provides a modern and easy to use spelling software that has been designed with one goal in mind – making children want to learn.
It is a fast and easy way to master even the most complicated spelling, without the need to write long lists or complete boring tests.
In fact, Ultimate Spelling provides more than just spelling help. It is a complete educational resource that boosts all level of a child's literacy.
Containing a personal computer tutor, Ultimate Spelling is the most realistic step-by-step guide to flawless spelling ability.