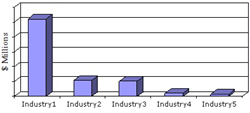 Global Market for LEDs to Reach $105.5 Billion by 2019
Wellesley, Mass. (PRWEB) December 08, 2014
With the steady increase in the usability and efficiency of light-emitting diodes (LEDs) over traditional light bulbs during the last decade, the global market for high-brightness LEDs is projected to reach nearly $46.4 billion in 2014 and $105.5 billion in 2019, with a compound annual growth rate (CAGR) of 17.9%. LEDs for general illumination applications have the highest growth rate of any major segment with a CAGR of 22% between 2014 and 2019. By 2019, shipments of LED for general illumination should reach $89.2 billion, or nearly 85% of the overall LED market.
The North American, European and Asia-Pacific regions have traditionally been the largest consumers of high-brightness LEDs. Over the forecast period, Chinese consumption will grow at the most rapid rate. This migration follows the path of other products that China initially produced and then sold to the general population. By the end of the forecast period, China's percentage of consumer use will have nearly doubled.
Lighting is one of the most widespread, important and growing energy users. In the U.S., recent data indicates that slightly more than 12% of electricity and 6% of all energy is consumed just to provide lighting. Global production of energy for lighting is approximately 3,400 TwH annually or the equivalent of about 1,700 power plants. Related carbon emissions were estimated at over 400 million tons per year. Improvements in lighting efficiency, therefore, should have an important economic and environmental impact.
"LEDs already exceed the estimated life spans of conventional lighting systems and, coupled with their environmental advantages, they represent a big step into the future," says BCC Research analyst Andrew McWilliams. "Solid-state lighting could affect many phases of industry and consumer markets, as well as affect savings in dollars and environmental waste."
Light-Emitting Diodes (LEDs) for Lighting Applications discusses LED technology, benefits, applications and markets. In addition, it examines the global factors impacting this technology in general such as economic problems and environmental concerns. Forecasts of unit shipments and their values are made for 2013, 2014 and 2019.
Editors and reporters who wish to speak with the analyst should contact Steven Cumming at steven.cumming(at)bccresearch(dot)com.
About BCC Research
BCC Research publishes market research reports that make organizations worldwide more profitable with intelligence that drives smart business decisions. These reports cover today's major industrial and technology sectors, including emerging markets. For more than 40 years, we have helped customers identify new market opportunities with accurate and reliable data and insight, including market sizing, forecasting, industry overviews, and identification of significant trends and key competitors. We partner with analysts who are experts in specific areas of industry and technology, providing unbiased measurements and assessments of global markets. Our clients include the top companies in industries around the world as well as universities, business schools, start-ups, consulting firms and investment companies. Visit our website at http://www.bccresearch.com. Contact us: (+1) 781-489-7301 (U.S. Eastern Time), or E-mail information(at)bccresearch(dot)com.
Data and analysis extracted from this press release must be accompanied by a statement identifying BCC Research LLC, 49-2 Walnut Park, Wellesley, MA 02481, Telephone: (+1) 781-489-7301; Email: editor(at)bccresearch(dot)com as the source and publisher. Thank you.