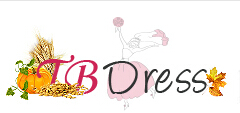 (PRWEB) December 15, 2014
Tbdress.com has recently announced its Free Shipping Day Sales. Now, everything at Tbdress.com is up to 80% off. Orders above $99 come with no-cost delivery worldwide. Ladies can get free shipping A-line wedding dresses, lace wedding dresses at lower prices.
Tbdress.com is an experienced supplier of wedding gowns and women's special occasion outfits, has added more than 400 lace wedding dresses to its product line. Handpicked by skilled dress experts, all the new models are comfortable to wear. Please note that the current sale will not last forever, because stock is limited..
According to the company's CEO, these beautiful products are carefully made by its top designers. It wants to offer the best special occasion dresses for its clients.
Product quality lies at the heart of the company's CEO. He ensures that all their outfits are of superb quality. They hope the current special offer can bring real benefits for consumers worldwide. At the moment, each of our trendy wedding outfits is very cheap. For example, an item named Elegant A-Line Scoop Tulle Sequin Pleats Brush Train Wedding Dress (model: 11034149) was previously priced at $765, and it is available at a new discounted price of $176.
"We are pleased to unveil the wonderful selection of wedding gowns; I hope our old and new clients will love them. Now, all the staff of our company is working hard to keep pace with the latest fashion trends. As a pioneer in the industry, we will continue to offer more fashionable products in the coming days," the CEO states.
About Tbdress.com
Tbdress.com is offering extensive and stylish collections of wedding dresses and other special-occasion dresses at acceptable low prices, and its products include a wide range of wedding dresses, evening dresses, prom dresses, and more. They vow to provide trendy wedding dresses without sacrificing the dress quality. For more details about Tbdress.com's special deals, please visit http://www.tbdress.com/