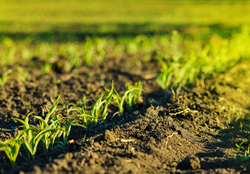 (PRWEB) December 09, 2014
Trivedi Foundation™ is a futuristic organization that is fast expanding the horizons of scientific knowledge through extensive research and study. It has achieved significant breakthroughs in the study of organic farming that will soon rewrite the conventional forms of agriculture. The scientists working for Trivedi Science have devised ingenious ways of boosting agriculture productivity that can reduce the extent of hunger and famine that the world is facing today.
Despite the growth of satellite technology for predicting weather patterns and rain frequency, there is no country in the world that has achieved fully fledged development in agriculture. As a matter of fact agricultural productivity; irrespective of national borders is soon plummeting due to the excess use of chemical fertilizers and pesticides. These chemically grown and ripened crops and plants have the potential to induce diseases into humans on a gradual basis. These diseases if not diagnosed and checked promptly can cause devastating effects to the whole human race.
Today organic agriculture is a relatively new term, although the practice sand methodology are strikingly resembling and identical to the older way of framing grains and crops. The concept of organic farming is to abstain from the use of chemical fertilizers or pesticides instead resort to the use of natural and native organisms that can boost fertility of soil and crop yield. Within a short span of introduction, it has captured the fancy and attention of global leaders who have been hunting to stabilize agriculture productivity on a massive scale. The studies and experiments conducted by Trivedi Foundation™ - a non-profitable organization founded by Mr. Mahendra Trivedi muscle boost to the viability of natural farming.
Trivedi Science understands that natural farming methods have become the need of the hour due to drastic flooding of chemically synthesized crops and plants. Organic farming will reduce the increasing level of soil and water pollution and help growing healthy crops that will maximize the health of organisms. Further, there will also be a reduction in the pressure on alternate sources of natural resources, and that will be required to produce fertilizers and pesticides. Trivedi Science aims at achieving a fine balance in the natural environment by inducing a culture of natural farming. Natural farming will also facilitate the natural process of decomposing and disintegrating that will boost soil fertility tremendously.
In order to make organic agriculture a preferred choice by the farming community, it is essential to make them aware of its immense benefits and rewards. Training and guidance should be provided to farmers who have got accustomed themselves to farming methods based on chemical usage. They should also be trained in the various organic farming methods, and the organisms to be used for boosting soil fertility and crop yield, etc. so that there is a complete development of agriculture. Gradually there will be a reduction in the rate of chemically produced crops that will reflect the enhanced health of worlds population. Profitability of farming communities will also get a boost since the cost of using fertilizers and pesticides will deflate significantly.
Trivedi Science is actively engaged in the study and appraisal of certain unique and specific areas of science and human living. These areas if developed will open up a new evolution of human beings that will enhance their racial intellect, health and spiritual well being by notches. The Trivedi Foundation™ has achieved remarkable results in improving organic blueberry production which if introduced as a part of daily diet can enrich the human body with intoxicants. These intoxicants will improve immunity and help fight contagious diseases and other disorders that are common everywhere. This form of organic agriculture is also set to be experimented in other sectors of agriculture to improve crop production and yields. For more details you can visit - http://www.trivedifoundation.org/ and http://www.trivediscience.com/