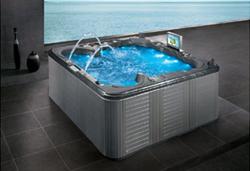 (PRWEB) December 08, 2014
The swim spas from XC Spa are popular in the USA market. Recently, the business has launched its new outdoor hot tub collection. It hopes that its innovative-designed, multi-functional and well-manufactured spa products can bring more fun and relaxation to the global customers.
Actually, the company hopes to expand its market share through high quality spa products and some special offers. Now, the design team of XC Spa is ready to talk with potential clients about booking or to explain and recommend treatments. The staffs of XC Spa are friendly and helpful to customers.
"Our swim spas are equipped with high-tech and stainless steel jets; a swim spa locates outdoor for enjoying natural scene and family swimming. We are here to specially recommend a very popular swim spa 821 to our customers. The model is suitable for 1 persons lying inside and 5 people sitting inside, enjoying the massage and spa." The CEO of the company says.
In addition, XC Spa offers infrared sauna products, which are designed for physical therapy to remove toxins and fatigue; they can reduce stress and weight loss.
"We are happy to release some new models and launch the promotion. We have everything to ensure client satisfaction." The CEO adds.
About XC Spa
XC Spa is an ISO9001:2000 certified company offering a wide range of Spa products, especially hot tubs, outdoor spa and swimming spa tubs. The company's products go through a strict quality-control process, and they are resistant to weathering, warping and scoffing. Premium product quality and great customer service are the reason that their products are widely recognized by the customers worldwide.
For more information, please visit: http://www.xcspa.com/