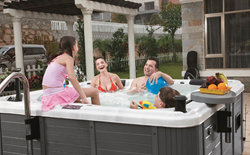 (PRWEB) December 20, 2014
XC Spa is a famous company for its high quality outdoor spas and hot tubs. Its products are distributed throughout the world. Today, the business announces its new outdoor spas, which are offered at discounted prices until Jan. 18, 2015.
XC Spa is a professional manufacturer of swim spas, swimming pools, hot tubs, outdoor spas, massage bathtubs and more. It is well known that its design team is strong in the designing and manufacturing swim spa products.
The vice president of XC Spa says, "We take pride in using the best components in the industry to make our products. We are here now to introduce our new models and announce the promotion. We're inviting all our clients, without whom, we wouldn't be where we are today, to visit our factory in China. We love you guys!"
Their products are convenient to use. Installation is often completed in no more than 20 minutes with an average install time of 30 minutes and a 4-5 hour dry time. Customers can also see the complete step-by-step instructions on our website,
With 180 workers, 15 R&D staff and 20 customer service staff, XC Spa has the capacity to deal with a big order from some important customers who place OEM/ODM orders. In addition, all the electronic or electrical elements XC Spa uses are in accordance with CE, FCC, UL, CSA, ROSH standards. Manufacturing operations are ISO 9001:2000 certified.
About XC Spa
XC Spa is a ISO9001:2000 certified company offering a wide range of Spa products, especially hot tubs, outdoor spa and swimming spa tubs. The company's products go through a strict quality-control process, and they are resistant to weathering, warping and scoffing. Premium product quality and great customer service are the reasons that their products are widely recognized by customers worldwide.
For more information, please visit: http://www.xcspa.com/