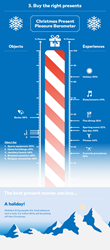 We're seeing a real trend in people wanting to spend their money on presents that enable their loved ones to do amazing things and create memories, rather than accumulate more material possessions
London, UK (PRWEB UK) 9 December 2014
With the UK set to spend almost £19 billion on presents this December, the phrase "money can't buy you happiness" might have to be reworked to add the caveat "but great experiences can." Travelzoo, the UK's top travel and entertainment deals provider, released findings today supporting the belief that accumulating material possessions does not bring lasting happiness – but spending hard-earned money on experiences does.
The Travelzoo Christmas Spending Survey* polled over 2000 UK adults to find out which of their purchases over the past year have brought them the most pleasure and enjoyment, and also what they were most hoping to receive for Christmas this year.
Top of the pleasure and enjoyment scale are holidays – 81% of people stated that money spent on jetting away gave them the best money/happiness ratio. In second place was live events such as concerts (69%) and in third place was fine dining, with 56% of people saying this had brought them the most enjoyment from their expense.
Louise Hodges, head of communications at Travelzoo said, "We're seeing a real trend in people wanting to spend their money on presents that enable their loved ones to do amazing things and create memories, rather than accumulate more material possessions – or even worse, gifts that end up being returned or exchanged.
"The benefit of a great evening out or night at a hotel is that it gives people enjoyment in different stages – there is the moment of receiving the gift, then there is the anticipation, followed by the experience itself and then the chance to relive it through memories and talking about it with friends. We are social creatures and it's no surprise that doing things with others is more rewarding than having more things we probably don't really need."
Further findings from the Travelzoo Christmas Spending Survey revealed:
1. 17% of people will do ALL their Christmas shopping online this year.
2. 3.2 million UK residents will be overseas on Christmas Day.
3. Women find Christmas shopping much more stressful than men – with one in four admitting it stresses them out.
4. Over a third of Brits admit to re-gifting Christmas presents, with toiletries, clothes and books being the most likely to be recycled.
5. A third of men would consider buying their partner a sex toy for Christmas
The most common causes of arguments on Christmas Day are:
1. What to watch on TV
2. Where you spend Christmas Day
3. Money and financial worries
4. Who does the washing up
5. Feeling under-appreciated
For the full survey findings or media interview requests please contact lhiggins(at)travelzoo(dot)com or via phone on 02074200598

This survey was conducted by independent third party, Censuswide, who polled 2000 working UK adults in December 2014.
Visit Travelzoo for further information.
-ENDS-
###
About Travelzoo
Travelzoo Inc. is a global Internet media company. With more than 27 million subscribers in North America, Europe, and Asia Pacific and 25 offices worldwide, Travelzoo® publishes deals from more than 2,000 travel, entertainment and local companies. Travelzoo Deal Experts review offers to find the best deals and confirm their true value. In Asia Pacific, Travelzoo is independently owned and operated by Travelzoo (Asia) Ltd. and Travelzoo Japan K.K. under a license agreement with Travelzoo Inc.
Certain statements contained in this press release that are not historical facts may be forward-looking statements within the meaning of Section 27A of the Securities Act of 1933 and Section 21E of the Securities and Exchange Act of 1934. These forward-looking statements may include, but are not limited to, statements about our plans, objectives, expectations, prospects and intentions, markets in which we participate and other statements contained in this press release that are not historical facts. When used in this press release, the words "expect", "predict", "project", "anticipate", "believe", "estimate", "intend", "plan", "seek" and similar expressions are generally intended to identify forward-looking statements. Because these forward-looking statements involve risks and uncertainties, there are important factors that could cause actual results to differ materially from those expressed or implied by these forward-looking statements, including changes in our plans, objectives, expectations, prospects and intentions and other factors discussed in our filings with the SEC. We cannot guarantee any future levels of activity, performance or achievements. Travelzoo undertakes no obligation to update forward-looking statements to reflect events or circumstances occurring after the date of this press release. Travelzoo and Top 20 are registered trademarks of Travelzoo. All other names are trademarks and/or registered trademarks of their respective owners.