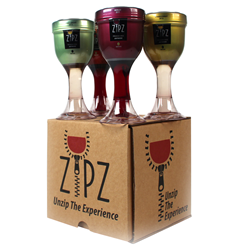 New York, NY (PRWEB) December 08, 2014
After facing the celebrity panel of shark investors on ABC's hit show "Shark Tank," ZIPZ founders Andrew McMurray and J. Henry Scott are pleased to announce that two sharks are diving into their mission to revolutionize the single-serve wine category.
During the episode, which aired on Friday, December 5 at 9 p.m. McMurray landed a deal with Shark Kevin "Mr. Wonderful" , Kevin O'Leary. The deal was the biggest in Shark tank history, $2,500,000 for 10% of the company.
Following the taping of the episode, CEO Scott reached out to fellow Shark Lori "Queen of QVC" Grenier and secured a deal to bring her onto the ZIPZ team. Lori brings an impressive track record of retail success as well as having over 100 patents of her own.
ZIPZ CEO J. Henry Scott said, "We were thrilled to have Kevin O'Leary as a partner after the filming. We considered him as a "must have" shark for our wine licensing product. He is, after all, the "Wine Shark". However, we also really wanted to get Lori and her vast TV and retail connections into the deal. Today we are honored to have both Kevin and Lori on our team."
Originally launched in April under the ZIPZ own wine brand, ZIPZ is an innovative patent-protected single-serve recyclable container shaped like a wine glass. The company is the brainchild of New Jersey and California-based entrepreneur and ZIPZ CEO J. Henry Scott and New York-based Andrew McMurray, the vice president of Zachys Wine and Liquor. The Zipz team also is led by President Patrick Scire, a longtime wall street titan who believed in Zipz from day one and was instrumental in raising the capital for the company.
Offering a fine wine product that is perfect for outdoors, indoors, and on the go, ZIPZ uses high-quality BPA-free plastic that gives the look and feel of traditional stemware. Each ZIPZ glass is covered in patented Clean Wrap to insure a fresh taste and clean glass with every sip.
Starting in April, Zipz will be exclusively bottled at industry leader, G3 Enterprises of Modesto CA.
"We have perfected our products to offer a high-quality, innovative wine experience that can be enjoyed anywhere," said Scott. " After noticing a complete absence of wine offerings at sports arenas and other public venues I realized this is exactly what was missing"
ZIPZ wines, featuring Cabernet Sauvignon, Pinot Grigio, Merlot and Chardonnay, are available for purchase online at: http://www.zipzwine.com/ and at select retailers nationwide including Zachys Wine and Liquors.
About ZIPZ
Launched in April 2014, ZIPZ wines set out to fundamentally transform the single serve wine industry by offering a portable solution for premium quality wines. As the brainchild of ZIPZ CEO, J. Henry Scott, and Zachys Wine and Liquor Vice President, Andrew McMurray, and President Patrick Sciore, ZIPZ is now sold in select retailers and public venues and currently offers four varieties including Cabernet Sauvignon, Pinot Grigio, Merlot and Chardonnay.
http://www.zipzwine.com/
About Zachys Wine and Liquors
Founded in 1944, and growing ever since, Zachys Wine and Liquor has built its business on offering one of the most complete selections of fine wine & spirits in America. The experts at Zachys bring years of experience to the table, taking the time and energy to regularly travel the world, seek out rare selections, and bring them back to Scarsdale to share with enthusiasts and newcomers nationwide. Zachys was a family business in 1944 and remains a family business today. Thousands of selections complete with label images and tasting notes can be found online at http://www.zachys.com and within the store's brick & mortar location found in the heart of Scarsdale Village. For more information, please visit http://www.zachys.com or call 1-866-922-4971.