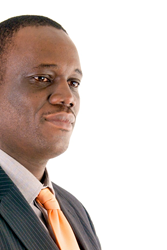 "Issues could be solved if we think innovatively and collaborate, because no company or organisation can solve Africa's challenges alone." - Richard Ntombela, DuPont
SOUTH AFRICA, Johannesburg (PRWEB) December 09, 2014
The private sector should collaborate with government to solve South Africa's problems and brainstorm workable solutions that lend themselves to public-private partnerships. A more proactive approach, innovative thinking and the willingness to work together could achieve far more than the general tendency to point fingers and complain.
This was one of the main points made at the first "Brain Trust" on Infrastructure Development held in Johannesburg on 3 December, a private sector platform hosted by DuPont that seeks to generate discussion on new approaches to the socio-economic dilemmas of South Africa and the rest of the continent.
"Government keeps asking how the private sector can contribute and we always say government must make the environment conducive. Let's see how we can meet government halfway," said Macfarlane Moleli, facilitator of the discussion.
This first Brain Trust was a collaborative effort involving four private sector players concerned about the lack of productive engagement between government and the private sector. The companies consist of global science company DuPont, law firm Hogan Lovells, investment company Shanduka Group, and REDISA (Recycling and Economic Development Initiative of South Africa). There are plans to introduce similar forums involving other private sector players from various industries in the future.
At the discussion, representatives of all four organisations emphasised the importance of pooling knowledge and sharing experience.
"Issues could be solved if we think innovatively and collaborate, because no company or organisation can solve Africa's challenges alone," said DuPont P&IP Business Leader, Richard Ntombela, referring not only to collaboration between the private sector and government, but also between business in South Africa and in other African countries. "South Africa is well developed and has the resources and know-how, but how do we take our knowledge and share it with the rest of Africa"?
Stacey Davidson of REDISA said one area where South Africa had been highly successful in public-private collaboration – and could share with other African countries - was the tyre recycling industry. "This is an example of real out-of-the-box thinking. Instead of focusing on the linear economy where products are sold, distributed and thrown away, we should perhaps start focusing on stimulating the circular economy, where waste is turned into worth and not thrown away."
Julian Nixon of Shanduka Group said another successful example of public-private partnership in South Africa was the ongoing renewable energy programme, REEP. "We have seen government take the lead and it is a well-run programme. Through this public-private partnership, an international company has set up a wind tower factory in Cape Town and is making technology that previously was imported. Now we need to take our best practices further and show that when we engage with each other and with international companies, we address issues."
Commenting on the relationship between business in South Africa and the rest of Africa, Rajen Ranchhoojee, head of the Africa Desk at Hogan Lovells, said South Africa was at a crossroad in a sense. "South Africa needs to decide whether we want to be a springboard into Africa or an innovator. Do we want to be a country that grows through the benefit of foreign direct investment or do we as the most developed country in Africa want to capitalise on Africa by sharing and investing? South Africa is not nearly active enough in engaging the rest of Africa. It is only in the last five years that South African firms have really taken an interest."
All four panel members agreed that it was essential to fill the vacuum between government and the private sector by discussing and collaborating on solutions that have already been shown to work and could be extended to other areas of the economy or the continent. They also agreed that the Brain Trust should not become just another "talk shop" but a platform for putting words into action.
-End-
About DuPont
DuPont (NYSE: DD) has been bringing world-class science and engineering to the global marketplace in the form of innovative products, materials, and services since 1802. The company believes that by collaborating with customers, governments, NGOs, and thought leaders we can help find solutions to such global challenges as providing enough healthy food for people everywhere, decreasing dependence on fossil fuels, and protecting life and the environment. For additional information about DuPont and its commitment to inclusive innovation, please visit http://www.dupont.co.za or follow @DuPontAfrica on Twitter. The DuPont Oval, DuPont™ and The miracles of science™, are registered trademarks or trademarks of E. I. du Pont de Nemours and Company or its affiliates.