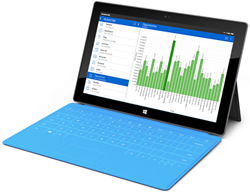 The new design of the application, which was positively accepted by iPhone/iPad users, now makes its way into Android and Windows Surface clients.
(PRWEB) December 10, 2014
The Winter update of Resco's mobile solution for Microsoft Dynamics CRM is about to be released today, just in time before the holiday break.
This update brings a variety of new features to the mobile solution. The most talked about is the new user interface of the app. As Resco mentions, the new design of the application was positively accepted by its iPhone and iPad users.
"The reaction to the new concept of the app was far better than we expected. That's why we decided to make it available to all users, so no one would be left out," Radomir Vozar, CEO at Resco, explains.
The list of new improvements includes:

Microsoft Dynamics CRM 2015 support
New user interface for Android and Windows Surface apps
Complete re-design of Windows Surface application
Support for iPhone 6 and 6 Plus display resolution
Select from 'search as you type' or 'wait for the enter key' type of search
Decide which activities in the Calendar will be read-only
Inline search for lookup fields – searches for records as you type
Android 5.0 a.k.a. Lollipop support
To see the full list on newly added features to Resco Mobile CRM, go to http://www.resco.net/news.aspx?file=2014-12-09
The new update is readily available for download/upgrade as of today. All existing customers and partners of Resco can obtain it at no extra charge as part of their product package.
About Resco
Resco, founded in 1999, is one of the global leaders in developing cross-platform mobile software solutions and the creator of the market favorite mobile CRM client for Dynamics CRM. The app – which gives users around-the-clock access to their data from anywhere – comes with a full offline mode, interactive maps, support of custom entities & many other things that make it the product people love to use.
For more information visit: http://www.resco.net