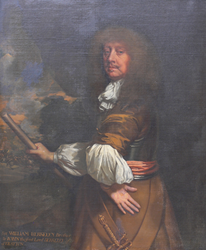 In today's episode, we are going to talk with an expert about one of Virginia's most interesting time periods – its first hundred years
(PRWEB) December 10, 2014
Early risers can watch this informative episode of Virginia Time Travel on Cox Cable - Channel 10 and on Verizon Fios - Channel 10 at 6:00 AM on Tuesday, December 23. It will run again on Christmas Day at 6:00 PM and on Friday, December 26 at and at 9:30 PM. It can also be seen TimeTravel21 Utube program page.
Today, we tend to view Virginia's Aristocracy as 18th century people who lived in big houses and chased foxes. In this half-hour program, Andrew and Jim touch on several forgotten details. One of the most important to remember is that colonizing Virginia was a commercial venture directed by men who aimed to make money. The Englishmen who came to Virginia between 1607 and 1660 included a few well-to-do treasurer hunters, dozens of second sons and dispossessed royalists, hundreds of middle class tradesmen, and thousands of impoverished laborers who arrived as indentured servants. Most of these "adventurers" came to Virginia make their fortunes. Seventy percent of them met untimely ends.
Jim explains that Governor William Berkeley laid the foundation on which Virginia's aristocracy developed. Sir William had a larger vision, which he almost accomplished it in the 1660s and 1670s by packing Virginia's legislature with Byrds, Beverly, Burwells, Carters, Harrisons, Lees, Ludwells, Randolphs, and Wormeleys. Berkeley purchased their support by helping them increase their wealth as Burgesses, Privy Councilors, Justices of the Peace, Colonels of the Militia, and County Constables. By having large families and marrying their children to the children of their associates, these men created what E. C. Dunstan described as "a self-perpetuating oligarchy of plantation owners."
Jim will shift gears when he speaks at the Main Richmond Public Library on 6 on February 2015. The main branch is located at 101 East Franklin Street in Richmond, Virginia and can be reached at 804-646-7223.
This program, which is part of the Richmond Writers Series sponsored by the Friends of the Richmond Public Library, will begin at 7:00 PM. Jim will discuss how he developed the idea for this fascinating book,"Thomas Jefferson's Enlightenment – Paris 1785," and how he researched it.
On 19 April at 5:30, Jim will join Jim Turpin and Susan Prokop and their friends at Democracy Vineyards in loving Lovingston, Virginia to talk about Thomas jefferson and wine while savoring a glass of their spectacular Velvet Revolution.
ABOUT COMMONWEALTH BOOKS OF VIRGINIA:
Commonwealth Books of Virginia's motto, "Where History, Philosophy, and Art Meet", underscores the three-dimensional quality of the histories it publishes. It uses state-of-the-art technology to transform its printed titles into families of products including ebooks, audio books, audio/video programs, and mobile devise applications. It advertises its authors and products in a program that coordinates traditional public relations with social media outreach. Its print and e-book editions are distributed by Small Press United of Chicago and its online affiliates. Its audio, audio-video, and video products are available through Amazon, Audible, and iTunes, and their global partners.
For information about the book, call Commonwealth Books of Virginia at 703-307-7715.