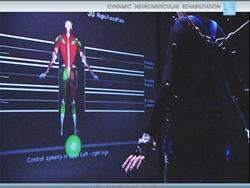 New York, NY (PRWEB) December 09, 2014
According to а new study appearing in the October 1 issue of the Journal of Bone & Joint Surgery (JBJS), receiving physical therapy prior to getting joint replacement surgery – otherwise known as "Prehabilitation" – can lower the need for postoperative care by almost 40%, saving an average of $1,215 for one patient. To this end, New York Dynamic Neuromuscular Rehabilitation, a well-respected comprehensive physical therapy clinic in New York City, says its utilization of the groundbreaking CAREN (Computer Assisted Rehabilitation Environment) virtual reality system is playing a key role in this realization, with clinic representatives like Dr. Lev Kalika proclaiming the CAREN method is showing as being more effective than standard forms of physical therapy.
When utilizing CAREN, you are secured by a harness while standing on a treadmill which sits in a platform that can move along three different axes and rotate at the same time. The patient's movements are captured by reflective markers that are on the body. The patients are involved in what is taking place in the virtual reality world that surrounding is surrounding them on the surrounding screen. The CAREN platform boasts inclines and declines that are said to be superior to a ramp in a more traditional setting; environments such as uneven terrain can be simulated, with the harness allowing patients to challenge themselves safely.
"We have been extremely proud to offer our patients treatment using the CAREN system, a versatile, multi-sensory virtual reality platform for treatment and rehabilitation of the human locomotion (walking), back pain, posture, balance, spinal stability and motor control integration," says Dr. Kalika, pioneer of the Dynamic Neuromuscular Stabilization (DNS) approach and head of New York City's Dynamic Neuromuscular Rehabilitation practice. "This virtual reality environment takes force measurements as the patient is engaging a program on the screen. These precise measurements can then be mapped along a patients' body in front of them to display which exact muscles were used. Providing an excellent way to address a variety of issues in when it comes to physical therapy including balance, force, individual muscles, cognitive feedback, muscle groups with even routine boredom as compared to more traditional programs."
Going back to the study that suggests receiving physical therapy prior to surgery can lower the need for postoperative care, New York Dynamic Neuromuscular Rehabilitation offers a plethora of therapy methods to treat a large variety of conditions which include; motor, back pain, brain injuries, bone injuries, strokes, orthopedic disorders, neurological disorders, sports injuries, balance disorders, posture-related conditions and patients in need of prosthetics.
Offering chiropractor in NYC from 9 a.m to 7 p.m. Monday thru Friday, the rehab center is located at 130 W. 42nd Street, Suite 1055, New York 10036. The telephone is 866-311-5889. For more information visit http://nydnrehab.com.