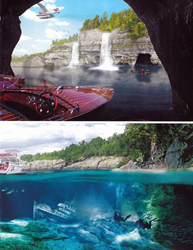 "We are excited and incredibly proud to be recognized by such a high level of connoisseurship." Chris Kane, Principal
Homer Glen, Illinois (PRWEB) December 09, 2014
Kane Brothers Water Features has been included in Robb Report magazine's just-released Ultimate Gift Guide - December 2014 issue. The $142MIL 'Great Lake' gift includes a 900-acre backyard lake with a sunken ship for scuba diving, an island accessible by zip line, a mile-long river for white-water rafting and more.
"We are excited and incredibly proud to be recognized by such a high level of connoisseurship," said Chris Kane, Principal, Kane Brothers Water Features. "We really had a lot of fun with the process of designing something so extravagant."
Each year Robb Report presents a carefully curated selection of items and experiences that push the boundaries of gift giving. This year's edition, the 31st, features 23 one-of-a-kind gift ideas ranging from a 35 acre private island to a zeppelin-line Aeroscraft.
To read the full article click http://robbreport.com/paid-issue/ultimate-gift-guide-2014-great-lake
About Kane Brothers Water Features
Kane Brothers, Inc. was founded in 1994 and is a premier design, build and maintenance firm specializing in garden environments with an emphasis on water. Based in Homer Glen, Illinois, Kane Brothers has designed and installed some of the most unique aquatic environments throughout the nation.
About Robb Report
Now in its 36th year, Robb Report is the international authority on the luxury lifestyle. The publication reports on exceptional products and services for affluent connoisseurs. Coverage includes automobiles, motorcycles, aircraft, art, fine dining, jewelry, watches, fashion, travel, homes, wines, spirits and cigars. For more information, visit the Robb Report web site at http://www.robbreport.com.
For additional information contact:
Chris Kane
Founding Principal
Kane Brothers, Inc.
Tel. (630) 794-9180
Fax. (630) 794-9182
e-mail: ckane(at)kanebros(dot)com
http://www.kanebrothers.com