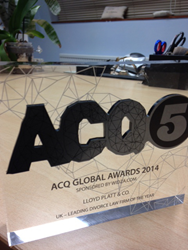 "We are absolutely delighted to receive this award and truly honoured to be recognised by our peers as industry leaders in Divorce Law." - Vanessa Lloyd Platt
London, UK (PRWEB UK) 10 December 2014
Lloyd Platt & Company are delighted to announce that they have been awarded the title of the UK Leading Divorce Law Firm of the Year 2014 by the prestigious ACQ Global Awards 2014.
ACQ, sponsored by Widza.com, is a premier global corporate magazine taking the ultimate steps in the search for the most outstanding companies, practice areas, individuals, and firm-wide professionals within the public and private sectors across the globe.
Since 2008, the ACQ Global Awards have been celebrating achievement, innovation and brilliance in their annual awards. ACQ operates an independent nomination process where they seek the assistance of their readership in recognising industry leaders, eminent individuals, exemplary teams and distinguished firms which they believe represent the benchmark of achievement and best practice.
Jake Robson, Editor in Chief of ACQ, commented, "Exceptional individuals, teams and firms across the marketplace represent the very best in their field from around the world and truly deserve the accolade of being an ACQ Award winner."
Vanessa Lloyd Platt, director of Lloyd Platt & Co. and senior divorce lawyer, commented, "We are absolutely delighted to receive this award and truly honoured to be recognised by our peers as industry leaders in Divorce Law."
Each of the solicitors at the firm has their own speciality which adds to the strength of the practice and a combination of this has led to the granting of the award. From Matthew Durman in his treatment of complex company matters; Samantha Ellis's approach to finances and children's matters; Simon Wolman's attention to detail and collation of excellent paperwork; Belinda Strange's forte in dealing with children's matters and finances; Felicity Mittleman's assistance at Court and providing a comforting ear; and Vanessa Lloyd Platt's speciality of troubleshooting in complex financial issues and resolving the most intractable of situations.
Further to this, the firm has also established the White Collar and Road Traffic Criminal Lawyers Department in September 2014 under the guidance of Gary Conway, which is ever growing as news of Gary's successes spread.
The firm has kept its innovative edge with the invention of the Divorce Voucher creating a global phenomenon in 2009 followed by creation of the world's first legal Pet-Nup, a Deed of Agreement for pet owners to sign in order to deal with relationship breakdown and which has attracted international acclaim.
Lloyd Platt & Company's day to day focus, however, is to provide a caring approach to all clients whilst finding a solution to even the most complicated cases.
About Lloyd Platt & Company
Based in London, Lloyd Platt & Co. began practising Family Law since 1992 when Vanessa Lloyd Platt established the firm. Lloyd Platt & Co. offer a range of specialised services including Family Law, Divorce and Criminal Law, making them the top choice for clients nationwide and internationally.
Visit our website: http://www.divorcesolicitors.com