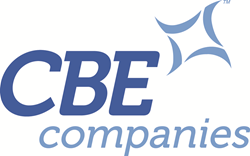 We encourage employees to support their communities and it's heartwarming to see the dedication, creativity and generosity of our employees throughout the year
Cedar Falls, IA (PRWEB) December 09, 2014
As 2014 winds to a close, CBE Companies, a business process outsourcing (BPO) company, continues to be awed by the generosity of its employees and proud of their efforts in the community.
CBE employees showed their pay-it-forward spirit by giving back to their local communities through donations, volunteering in local events and fundraising. All of these initiatives are part of the CBE Cares program, designed to create opportunities for employees to work together throughout the year in company-sponsored events that encourage giving back to the communities. The program benefits a variety of causes in CBE's communities of Cedar Falls and Waterloo, Iowa; Overland Park, Kansas; New Braunfels, Texas; Haverhill, Massachusetts; and Manila, Philippines.
"We encourage employees to support their communities and it's heartwarming to see the dedication, creativity and generosity of our employees throughout the year," said Mary Phillips, Chief Human Resources Officer. "Our employees care about the people in their communities and it shows in their commitment to doing the right thing."
CBE Cares extends broad reach in 2014
Employee committees plan and execute each CBE Cares campaign. Success of the events comes from widespread participation from employees. Throughout 2014, several major campaigns brought forth the employees' giving spirit, including:
United Way
CBE's annual United Way campaign proved, yet again, to be a success. CBE's employee's contributed over $73,000 to local chapters throughout the month of October. Fundraising events included contests, auctions, food sales, raffles and more, creating fun and competitive ways for employees to make donations.
Pay It Forward
CBE held its fifth annual Pay it Forward campaign in July. Employees worked together in teams to select a cause and determine a plan for paying it forward. CBE volunteer efforts included tending a community sharing garden, assembling fleece blankets for patients at local hospitals, donating household items and personal hygiene baskets for needy families, volunteering time at food banks, participating in a river cleanup and donating school supplies. As the Pay it Forward campaign came to a close, it was apparent that team effort created significant impact in the communities.
The Leader In Me
CBE has been a foundation for the Cedar Valley Leader in Me program. The program, derived from Stephen Covey's 7 Habits of Highly Effective People, develops life skills and self confidence for elementary through middle school students to thrive as leaders in the 21st Century. CBE provides both leadership and financial support for the program.
Partners in Education
CBE has had a long-standing partnership with Lincoln Elementary school to assist with needs of staff and students. In 2014, CBE employees contributed more than $5,300 through Partners in Education. Beyond financial assistance, employees gave of their time to serve at events, as mentors and in a pen pal program.
Casual for a Cause
Employees at each CBE location support local, non-profit organizations each month through CBE's Casual for a Cause initiative. Employee contributions allow them to wear jeans at work, while money generated is given to local charities carefully selected by a committee at each CBE location. In 2014, more than $68,000 was donated to 14 charities, including Cedar Valley Hospice, Big Brothers/Big Sisters, No Debt for Vets, Northeast Iowa Food Bank, Boys and Girls Club and several others.
About CBE Companies
CBE Companies is a global business process outsourcing (BPO) organization offering third-party recoveries, first-party collections, fraud management, customer care and technology solutions. CBE Companies is supported by a leadership team of tenured industry experts. Its workforce of dedicated professionals is quickly growing. As the organization grows, new career opportunities are continually created. The mission of CBE Companies is to make its customers better through:

Focus on the deepest understanding of its customers' business
Innovative solutions that provide clear value in solving specific business challenges
A unique culture and investment in employee engagement
CBE Companies currently employs more than 1,500 people in seven locations globally. Its corporate headquarters is located in Cedar Falls, Iowa, with two additional facilities in Waterloo, Iowa, and additional facilities in Overland Park, Kansas; Haverhill, Massachusetts, New Braunfels, Texas and Manila, Philippines. The organization is consistently recognized as a top five Employer of Choice in the Cedar Valley. It has also been recognized by Workplace Dynamics as one of Iowa's Top Workplaces.