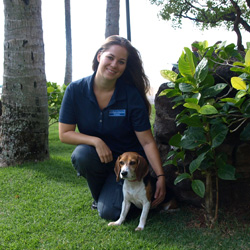 Honolulu, HI (PRWEB) December 10, 2014
Sandwich Island Pest Solutions, Hawaii's leading bed bug service provider has been providing innovative and superior bed bug control services since 1997. In 2006, they decided that adding bed bug detection dogs to their team would be a great benefit to both Sandwich Isle and their loyal customers. Scout and Ally became part of the team and allowed the company to offer K9 bed bug scent detections services to help control bed bugs in homes and businesses throughout Hawaii.
While Scout and Ally were with the team, they had busy, exciting, and fun work days. They have provided valuable services to the customers, and have completed thousands of bed bug inspections all over Hawaii. Their schedules included daily training to maintain their accuracy and of course going out into the field. Sandwich Isle's K9s provided proactive inspections to help prevent bed bug infestations, reactive inspections to confirm or deny the presence of bed bugs, and confirmation of elimination inspections to confirm that the bed bugs have been completely eradicated after treatment services are finished.
Scout and Ally have always willingly and enthusiastically worked to control bed bugs in homes and businesses across Hawaii. However, the K9 handlers noticed over the last several months that Ally has had some trouble with joint pain, and that Scout has lost a bit of his zest for the job. After much thought and consideration, it was decided that the time had come for the K9s to retire and go back to having only one job, being family dogs. Scout and Ally will both enjoy the North Shore and do what dogs do best; eat, sleep, and play! They will enjoy retirement and have already enthusiastically integrated in their new " home pack" (now consisting of the two retired beagles, two lucky stray muts, and two giant English Mastiffs). Scout and Ally now live on the beautiful North Shore of Oahu with company's president, Michael J. Botha, and his family.
With Scout and Ally retiring, Sandwich Isle Pest Solutions felt that it was best that the K9 bed bug scent detection operation be retired as well. With advancements in bed bug detection technologies, they are confident that they can offer their customer's excellent "non-K9" bed bug detection services that will provide the same end result, a bed bug free property.
For more information about bed bugs, or about our bed bug control services, contact a representative from Sandwich Isle Pest Solutions today by visiting http://www.sandwichisle.com.