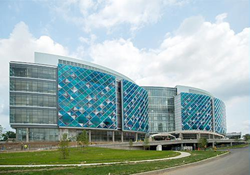 This was a huge project, and we worked closely with the project applicators, Fromkin Brothers of Edison, NJ, to ensure perfect results.
E. Setauket, NY (PRWEB) December 08, 2014
Alfred I. duPont Hospital for Children in Wilmington, DE, is operated by the Nemours Foundation and part of a network of pediatric hospitals and clinics in Delaware, New Jersey, Pennsylvania and Florida. The Nemours Foundation is a non-profit organization created by philanthropist Alfred I. duPont in 1936 and dedicated to improving the health of children.
The newly expanded Nemours/Alfred I. duPont Hospital – now 280,000 square feet larger –features more and better patient rooms, a sunlit atrium and modern lobby, added bays for the emergency room area, a new Welcome Center, a healing garden, a new coffee shop, an expanded parking garage, a rooftop helipad, and conference rooms for each unit. Begun just before Christmas last year, the grand opening was celebrated this month.
"This was a huge project and we worked closely with the project applicators, Fromkin Brothers of Edison, NJ, to ensure perfect results," explains Pete Trainor, VP of Sales for PENETRON Specialty Products (PSP).
The key challenges included providing an effective and consistent moisture mitigation solution and the flexibility to work around other teams at the construction site. Over 280,000 square feet of floor space were prepared with PENETRON products – including the VB225 vapor barrier system, STX 100 primer, Leveline 15 self-leveling underlayment, Surfix FEP and Surfix SKM skim coatings, Renew CR floor topping, and PENESEAL FH sealer. The final flooring system manufacturers included nora Rubber and Altro and Mohawk carpet tiles.
"Fromkin Brothers had an aggressive installation schedule, and we worked closely with them to ensure the PSP floor prep products were delivered on time," concludes Pete Trainor. "The project was finished on schedule."
The PENETRON Group is a leading manufacturer of specialty construction products for concrete waterproofing, concrete repairs and floor preparation systems. The Group operates through a global network, offering support to the design and construction community through its regional offices, representatives and distribution channels.
For more information on PENETRON flooring preparation solutions, please visit www(dot)penetronsp(dot)com or facebook(dot)com/ThePenetronGroup, email CRDept(at)penetron(dot)com, or contact the Corporate Relations Department at 631-941-9700.