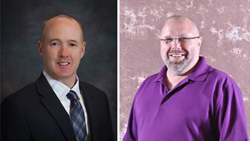 M3 has built a high performing team that recruits, retains and recognizes individuals for their leadership and contributions. - Roni DasGupta, President of Market Research, Americas
Washington, DC (PRWEB) December 09, 2014
M3 Global Research, a market leader with the world's only ISO verified healthcare professional panel, today announced two additional key promotions to support and accelerate the company's growth for 2015: the appointment of Michael Wildt as Head of Sales and the promotion of Jim Anderson, as Senior Vice President of Sales Operations.
Michael Wildt has over ten years of healthcare sales experience and has held the position of Senior Vice President of Market Research, handling M3's most strategic accounts. These leadership skills will further be leveraged in his new role as Head of Sales, where he will direct the comprehensive support of new and existing accounts in the United Sates.
Jim Anderson has over sixteen years of medical market research experience, with the last six being with M3. An industry veteran, Jim Anderson has had multiple years' experience as a mentor to sales professionals. In his new role as Senior Vice President of Sales Operations, he will work with Michael Wildt to facilitate the world class customer service and support that has been a signature of the M3 Global Research brand as a market leader.
"M3 has built a high performing team that recruits, retains and recognizes individuals for their leadership and contributions. I am highly confident that these new leadership appointments will be instrumental in our overall growth and continued success," remarked Roni DasGupta, President of Market Research, Americas.
M3 Global Research is the only healthcare panel in the world ISO certified to the market research standard ISO26362.
About M3 Group
The M3 Group operates in the US, Asia, and Europe with over 2.5 million physician members globally via its physician websites such as m3.com, mdlinx.com, research.m3.com, doctors.net.uk, medlive.cn and medigate.net . M3 Inc. is a publicly traded company on the Tokyo Stock Exchange (JP:2413) with subsidiaries in major markets including USA, UK, Japan, S. Korea, and China. M3 Group provides services to healthcare and the life science industry. In addition to market research, these services include medical education, ethical drug promotion, clinical development, job recruitment, and clinic appointment services. M3 has offices in Tokyo, Beijing, Seoul, Washington D.C., Fort Washington, Rochester, San Mateo, St Louis, Oxford, and London.
M3 Group Featured Sites
mdlinx.com - networksinhealth.com - thesmartestdoc.com - research.m3.com