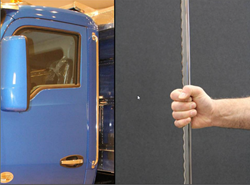 Brentwood, Tennessee (PRWEB) December 17, 2014
Tennessee-based metal fabricator Mills Products Incorporated has begun producing a hydroformed truck grab handle for Paccar, manufacturer of light-, medium-, and heavy-duty trucks under the Kenworth, Peterbilt, and DAF nameplates.
The metal tube handle is mounted to the exterior of the cab to assist drivers as they pull themselves up to the truck's driver-side door. Tubular hydroforming was employed so the handle could be formed into a shape that reduces wind noise. Some of the handles also include a knurl to improve grip.
"The Paccar design team came to us with a problem and, by working together, we were able to jointly develop a product that is beautiful and solved a problem," says Darrell Adcock, President at Mills Products.
Visit http://www.millsproducts.com to learn more about Mills Products's experience applying its roll forming, hydroforming, and tubular stamping expertise to develop quality metal parts for heavy truck manufacturers.
About Mills Products Incorporated
Mills Products is a leader in the metal fabrication industry with a reputation for producing superior parts and making existing components stronger, lighter, and more economical. A turnkey metal fabricator with facilities in the U.S. and Mexico, Mills offers hydroforming, tubular stamping, roll forming, and finishing services. An industry leader since 1945, Mills Products was the first metalforming manufacturer to utilize hydroforming technology for appliance manufacturing. The company continues its legacy of creative innovation today from its headquarters in Brentwood, Tenn.
###