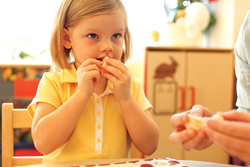 WASHINGTON, DC (PRWEB) December 08, 2014
A childhood obesity intervention targeting early care and education providers in six states shows promise for changing nutrition, physical activity and breastfeeding environments that will greatly benefit young children nationwide. This national model, led by Nemours Children's Health System, with funding from the Centers for Disease Control and Prevention (CDC), outlines a successful approach to spread, scale, and sustain proven obesity prevention efforts to increase the reach and impact of such programs. The model is detailed in a case study featured in the December issue of Health Affairs.
"The successful spread and scale of our evidence-based early care and education strategy provides both a model and lessons learned for the field as we continue to work together to reverse the alarming trends in childhood obesity," said Debbie Chang, MPH, enterprise vice president of policy and prevention at Nemours Children's Health System. "Focusing on the spreading, scaling and sustaining promising strategies has the potential to increase the reach and impact of efforts in obesity prevention and help ensure their ever-growing impact on population health."
Nemours' childhood obesity prevention efforts began in Delaware in 2004 as part of a comprehensive plan targeting early care and education centers, schools, primary care institutions, community organizations, and social marketing efforts. To spread, scale and sustain one of these successful strategies, Nemours launched the National Early Care and Education Learning Collaborative to prevent childhood obesity in 2012 in six pilot states with $4.2 million in initial funding from CDC: Arizona, Florida, Indiana, Kansas, Missouri, and New Jersey. Since the launch, the model was adopted in Kentucky, Virginia, and parts of Los Angeles County in California and the initiative has received an additional $7.47 million in CDC funding. Preliminary data indicate significant increases in the percentage of best practices in healthy eating and physical activity that were adopted by early care and education programs in each of the original six states.
The multi-state project supports early care and education providers in improving the quality of care they provide to young children with a focus on improving nutrition, increasing physical activity, reducing screen time, and providing breast-feeding support through a national curriculum and learning collaborative method. The intervention is delivered through state partners, with technical assistance, training, and coaching provided through a national team.
"Simply focusing on spread, scale, and sustainability in early care and education is not enough to change the obesity rate in young children." Chang said. "Promising strategies across sectors – including primary care schools and other community settings – must consider spread, scale, and sustainability from the outset using lessons learned from the early care and education sector."
###
About Nemours
Nemours (NAH-mors) is an internationally recognized children's health system that owns and operates the Alfred I. duPont Hospital for Children in Wilmington, Delaware and the Nemours Children's Hospital in Orlando, Florida along with major pediatric specialty clinics in Delaware, Florida, Pennsylvania and New Jersey.
Established as The Nemours Foundation through the legacy and philanthropy of Alfred I. du Pont, Nemours offers pediatric clinical care, research, education, advocacy and prevention programs to all families in the communities it serves. For more information, visit http://www.Nemours.org