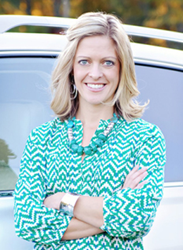 It's important that families remember the true meaning of the holiday season.
(PRWEB) December 09, 2014
With the holiday shopping season in full swing, it's important to remember about giving back to the community. Military entrepreneur and blogger, Jen Griswold, is detailing five ways for families to volunteer during the holidays.
"As you navigate the early decorating, constant commercialism and holiday marketing tactics, it's important that families remember the true meaning of the holiday season," says blogger Jen Griswold. "This season I am incorporating the tenants of military service: giving, service before self, and sacrifice; to keep the true spirit of the season at the forefront." According to Griswold, here are five ways to get involved and give back this month.
1. The Heifer International: Heifer International works with communities to end world hunger and poverty and to care for the earth. "Each year Heifer provides a catalog of possible animals to purchase at every price level. It's a fun and easy replacement to the toy catalogs that easily find their way into your kid's possession," says Griswold.
2. The Pointsettia Project: "My daughter and I purchase a slew of pointsettias and come up with a plan to covertly deliver them to friends' houses to spread holiday cheer."
3. Pay it forward: "This is another way to show your kids the spirit of giving by allowing them to pay it forward to people at locations you frequent. It can be a coffee shop, grocery store or post office. It truly warms the hearts of everyone involved," she says.
4. Holiday cards for troops: "As military children, my kids know that not all Moms and Dads are able to be home with their families during the holidays. Operation Gratitude is an organization that sends 100,000+ care packages filled with snacks, entertainment, hygiene, hand-made items, and personal letters of appreciation to Veterans, New Recruits, Wounded Warriors, and more deployed overseas to help lift spirits," says Griswold.
5. Help the homeless: "My daughter came up with the idea of bringing blankets to homeless shelters or donating time at a soup kitchen. We were able to get her entire class to participate by each bringing a blanket to class to donate."
Griswold details these tips with personal stories on her blog here. Her blog also features career tips specific to entrepreneurship.
About Jen Griswold:
Jennifer Griswold is self-proclaimed "milpreneur" dedicated to sparking the entrepreneurial spirit among other military spouses. A former Air Force officer and current military wife, Jen knows maintaining a career when moving constantly can be tough. Jen has made it her mission to provide military spouses with the resources and education to achieve success. For more information please visit http://jengriswold.com