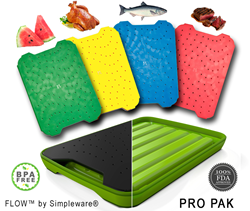 Our mission is to create elite kitchen products everyone can afford, without compromising functionality.
CHAPPAQUA, NEW YORK (PRWEB) December 09, 2014
ECO FLOW™ by Simpleware® is an ecologically friendly evolution of the revolutionary FLOW™ cutting board entirely funded by Kickstarter backers in 2012. In hopes to gain mass-marketability, Simpleware® has launched a crowd-funding campaign through global fundraising site, INDIEGOGO. Savings are passed-on to the customer in the form of 50% cheaper houseware products. ECO FLOW™ will be available to campaign supporters from the Simpleware® store, and Simpleware's expansive network of growing retail stores, set for shipment in March 2015.
"Simpleware is thrilled to bring ECO FLOW™ to our customers in the 45 day Indiegogo launch," said Co-founder Peter Hauser. "With support for the previous FLOW™ inventory available in our campaign perks, funds received will go to produce ECO FLOW™." With help our of their suppliers, they were able to design the ECO FLOW™ to benefit the consumer. "Our mission at Simpleware® is to create some of the world's best kitchen products everyone can afford, without compromising functionality."
ECO FLOW™ by Simpleware® uses a single-injection molding process: less energy expended creating each cutting board. The 3 vibrant insert and tray combinations are made with high-quality FDA approved cutting board materials safe on knives: Black, Green and Red. These interchangeable cutting surfaces reduce risk for cross-contamination, separates foods as required by some faiths (i.e. Kosher, Halal). Less-experienced Chefs are safer providing them ease to effortlessly comply with Food Safety Regulations in dining establishments, while reducing time and energy spent on food preparation. Dishwasher safe and easily stored in your cabinet (10"x14"). Collects juices to be used in sauces and recommended for thawing frozen foods.
The FLOW™ series is based on the simple concept: modern, low-profile design approach to kitchenware without compromise to quality to provide a benefit. Customers can expect the same stable cutting surface, while the non-skid rubber feet keep it from sliding on your countertop. It alleviates the messy countertop problem, while providing an easy, effective process for cleaning and storage, prevents the growth of bacteria and ensures durability, ease-of-use.
Founders, Peter Hauser and Ola Ahlmen, have extensive experience successfully launching products into the US market. Peter's design and development background combined with Ola's experience bringing products to the market has proven successful, keeping them busy in delivering for their respective companies. The FLOW™ cutting board was faced with industry professional feedback at CHICAGO International Home + Housewares Show. They soon realized the product was simply too expensive.
Simpleware® has retained management consultant, Pamela Rossi, who has expertise launching products in the US market while providing strategic development to guide great products to the right retailers. "When Peter and Ola introduced me to FLOW™, I knew it had scalability, but was lacking in that the production costs limit marketability." The intention is to mass-market FLOW™ as an everyday kitchen product. Reduction in production cost would get it there.
About Simpleware®
Simpleware® is a new brand that offers unique kitchen products. Founders Peter Hauser and Ola Ahlmen first created Simpleware® with their introduction of FLOW™. Peter's design and development background combined with Ola's experience bringing products to market has built the perfect relationship for success. Visit Simplehouseware to find out more information on Simpleware® .
About Pamela
Pamela is a management consultant, where the analysis of existing organizational structure to develop plans for improvement, provides clients a strategy for successful product integration. With her 10+ years of sales experience, 5 of which have been specialized in import product placement, she has become a leader in her field, having successfully launched numerous products in the US retail market. JETRO, ACTUS, and Baieido to name a few. Pamela is the creator of Margabucha™.
With 39 days left to go in Simpleware's Indiegogo campaign, ECO FLOW™ is available for pre-order and FLOW™ is available for order until December 15th for Christmas delivery.