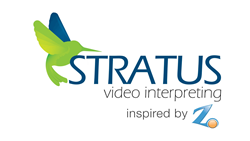 We've been working with ZVRS for years; so when the opportunity arose to sponsor this race with them, it was a no-brainer for us.
Clearwater, FL (PRWEB) December 09, 2014
Tampa Bay residents and visitors are invited to take part in the second annual Santa and Suds 5K Run/Walk and Street Party in Downtown Clearwater on Sunday, December 21, 2014. Hosted by Stratus Video Interpreting and The Z® Video Relay Service (ZVRS), the holiday-themed charity fun-run is intended to raise awareness and funds for the Deaf Literacy Center in Safety Harbor, Florida.
The Santa and Suds 5K Run/Walk will start at 3 p.m. on December 21 and end with a post-race party at the Capitol Beer House on 422 Cleveland Street in Downtown Clearwater. All registered participants – including runners, walkers and spectators – will receive a commemorative T-shirt and a complimentary beer. Online registration is open through December 15, and in-person registration will take place the day of the event. The 5K course begins and ends at Capitol Beer House, continuing down Cleveland Street and along the Clearwater Memorial Causeway to Clearwater Beach before returning to the starting point.
All proceeds from the event will benefit the Deaf Literacy Center, which provides basic literacy instruction, life-skills training, and library and information services to deaf individuals and their families. The cause is a particularly meaningful one for the event hosts, as The Z provides video relay services (VRS) for the deaf and hard-of-hearing while Stratus offers video remote interpreting (VRI) services in more than 175 spoken and signed languages to assist the deaf and those with limited English proficiency (LEP).
"Deaf literacy is a cause that's very near and dear to our hearts, as our business was initially founded to provide communication services for the deaf," explained Sean Belanger, CEO of Stratus Video Interpreting and founder of the Santa and Suds 5K. "This event enables us to benefit deaf and hard-of-hearing individuals throughout Tampa Bay while engaging our local community. Giving back is an important aspect of our corporate culture, and we're committed to supporting initiatives that assist the deaf and hard of hearing and people with limited English proficiency."
While Belanger is proud to serve as the figurehead of the event, he is quick to give credit to others who have made the Santa and Suds 5K Run/Walk possible, including co-chairs Megan Lawler and Kate Pascucci as well as a host of corporate sponsors. "We're grateful that so many organizations and individuals agreed to be a part of the Santa and Suds 5K," noted Belanger. "Their involvement makes a world of difference in taking this event to the next level."
Tampa-based Haneke Design is one of the many businesses that eagerly signed on as a corporate sponsor. "At Haneke, we are always looking for opportunities to give back," remarked company president Jody Haneke. "We've been working with ZVRS for years; so when the opportunity arose to sponsor this race with them, it was a no-brainer for us."
In addition to Stratus, The Z and Haneke Design, other event sponsors include the Clearwater Downtown Development Board, Clearwater Downtown Partnership, Baystar Restaurant Group, Best Buy, Bouchard Insurance, Capitol Beer House, Clegg Insurance Group, Configero, Ergotech Group, GreenPages, HUB International, iDatix, Lifesize, Macfarlane Ferguson & McMullen, Sonic Alert, SHI, Stratix and VITAL Network Services.
"We look forward to raising awareness of American Sign Language and deaf literacy services while mingling and having fun with our neighbors," said Belanger. "The event also presents a great opportunity for residents and visitors from throughout Tampa Bay to discover all that Downtown Clearwater has to offer. Not only do we have dozens of outstanding businesses, restaurants and entertainment venues along Cleveland Street and the surrounding area, but one of the nation's best beaches is just across the causeway."
For complete details on the Santa and Suds 5K Run/Walk and Street Party – including event registration and the course route – visit http://www.santaandsuds5k.com.
To learn more about Stratus and its video interpretation services for deaf, hard-of-hearing and limited English proficient individuals, visit http://www.stratusvideo.com.
About Stratus Video Interpreting:
Stratus Video Interpreting provides on-demand interpreter services by using technology to connect clients with interpreters in over 175 spoken and signed languages in less than 30 seconds. Stratus' cloud-based video solution delivers an array of unique features to virtually any Internet-enabled PC, Mac, smartphone or tablet. Stratus clients use the technology to connect with their own staff interpreters, as well as with Stratus interpreters, who have years of healthcare and courtroom experience and hold multiple certifications. With Stratus, state-of-the-art video remote interpreting is made available with virtually no capital investment. Stratus averages 65,000 video calls a day, up from 40,000 in mid-2013. Stratus Video is the sister company of The Z® (CSDVRS, LLC, dba ZVRS), which was established in 2006 and developed by and for deaf and hard-of-hearing individuals, setting the industry standard as the nation's premier Video Relay Service Provider and the first VRS Provider to receive a 5-year certification from the FCC. In 2014, Stratus was recognized as one of the fastest-growing privately held companies, ranking #3,827 on Inc. magazine's Inc. 5000 list. For more information, visit http://www.stratusvideo.com.