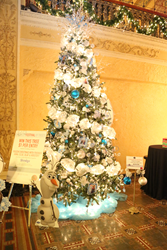 Fort Wayne, IN (PRWEB) December 10, 2014
Personalized picture frames, cookie tins, ornaments, key tags and lollipops adorned the 12' foot Christmas tree by Shindigz as thousands of guests graced the doors of the Embassy Theatre. The Christmas tree by Shindigz couldn't be missed. Thousands of lights chased through the tree, dancing playfully, happily, waiting to see the next smile for a picture.
The crowds were plentiful, and every age was delighted to hear the sounds, see the fun and be a part of all that the festival provided. Fifty-eight trees, in all, filled the halls of the Embassy Theatre. Built in 1928, the Embassy Theatre is under restoration and all proceeds from the festival will help fund the construction.
The 30th Annual Festival of Trees concluded on December 3rd and the eight-day festival set an attendance record of 19,078 surpassing last year's total by nearly 1,000 people. Every age delights in this annual festival celebrating its 30th year, Shindigz proudly participating for the first time with a Christmas tree.
Adding to the excitement, every visitor could bid on the the tree for $1, valued at over $5,000. All proceeds were then donated to the Embassy Foundation. This year's lucky winner was Barbara Armstrong of Fort Wayne, Indiana.
Festival of Trees is the Embassy's signature fundraising event and dollars raised benefit the nonprofit's operations and programming. The 31st annual Festival of Trees will take place November 25th to December 2nd, 2015.
###
About the Embassy Theatre
Built in 1928, the historic Embassy Theatre features national productions from the Broadway stage, concerts of all musical formats, cinema, educational programming and a continued commitment to young people. For more information, visit http://www.fwembassytheatre.org.