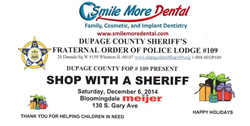 To see the joy on their faces as they shop is very rewarding
Bloomingdale, IL (PRWEB) December 09, 2014
It was all smiles on December 6th as the DuPage County Sheriff's Fraternal Order of Police and Smile More Dental teamed up to put on the annual Shop with a Sheriff event held at the Meijer store in Bloomingdale. A group of DuPage County kids spent the day roaming the aisles picking out their favorite gifts and toys for themselves and family members.
Shop with a Sheriff has been helping kids in DuPage County for 20 years. The event is made possible through generous donations from community partners like Smile More Dental.
"The holidays are such a happy time for most people, but it's tough for some kids and families who are barely making ends meet. No child should have to go without on Christmas. To see the joy on their faces as they shop is very rewarding," said Dr. Sami Diab of Smile More Dental.
Each child was allotted $125 to shop for gifts for family members and themselves. In addition, the kids were given private police escorts as they rode up to the store with sirens blaring and lights flashing.
"What amazed me is the kids spent most of the money on their family members rather than themselves. I think we all learned a lesson in selflessness," said Diab, whose dental office was a platinum sponsor of the event.
For more information on how to get involved with Shop With a Sheriff, visit http://www.dupagesherifffop109.org/
About the DuPage County Sheriff's Office Fraternal Order of Police 109
The DuPage County Sheriff's FOP Lodge 109 is a fraternal organization 501 (c) 08 focused on supporting community activities and charities throughout the region. FOP Lodge 109 actively participates, sponsors, and donates its time and resources to local, state, and national organizations including Illinois Special Olympics, Polar Plunge, Baldricks Foundation, and Shop With a Sheriff.
About Smile More Dental
Smile More Dental is a top-rated dental office with locations in Lombard and Wheaton, Illinois. Dr. Sami Diab and his dental team specialize in preventative and acute dental care for adults and children. Dr. Diab and his team enjoy giving back to the local community and supporting events like Shop With a Sheriff. For more information about Smile More Dental, visit them on the web at http://www.smilemoredental.com
Contact Information:
Smile More Dental
Address: 432 E. Roosevelt Rd, Lombard, IL 60148 / 225 Rice Lake Sq, Wheaton, IL 60189
Phone: 630-629-4100 / 630-343-7002
Email: pr(at)smilemoredental(dot)com
Website: http://www.smilemoredental.com
https://www.facebook.com/smilemoredent
https://www.youtube.com/user/SmileMoreDentalVideo