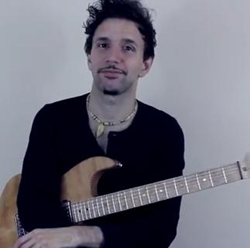 (PRWEB) December 08, 2014
George starts off this easy funky rhythm guitar lesson by first performing the riff so you can hear how it should sound. This funk style riff is in the key of A and is based in the pentatonic scale and features a counter melody. The primary melody is based in the first position of Am (A minor) Pentatonic which George demonstrates as follows.
7th fret of the 4th string with 3rd finger to the 5th fret with first finger and then back to the 7th fret to the 5th fret of the 3rd string with first finger and then back to the 7th fret of the 4th string and then finally back to the 5th fret of the 4th string. The bass notes make up the counter melody and starts with an A played on the 5th fret of the 6th string and then to a G# (G sharp) and then to a G and then an F and finally ending on an E. Guitar TAB's are available for this easy rhythm guitar lesson at GuitarControl.com.
A Pentatonic Scale is a musical scale with five notes per octave and is very common and found all over the world.
A Counter Melody is a sequence of notes performed simultaneously with a more prominent lead melody, played as a secondary melody in counterpoint with the primary melody.
George Marios
George Marios is a guitarist, composer and recording artist originally from Greece, but relocated to the UK in 2012. George has studied at the Nemesis Guitar School and Leeds College of Music. George was a finalist in the 2009 Guitar Idol contest and has performed and recorded all around the UK. You can find George performing with his band KODY and giving online guitar lessons through his site.
About GuitarControl.com
GuitarControl.com is the leader in modern guitar instruction. It's packed with recourses including articles, video lessons, and the best videos in the business for the beginner to the advanced guitar student taught by the best instructors out there. Weather you are into the blues, rock, jazz, metal, folk, or anything in between, they have you covered.