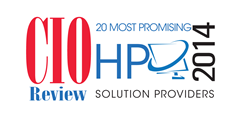 Our partners are at the center of everything we do.
Denver, CO (PRWEB) December 09, 2014
The December issue of CIO Review compiles a list of the twenty most promising HP Solution Providers. Not surprisingly, Zunesis, who has partnered unwaveringly with HP over the last decade, made the list.
CIO Review's goal with this issue is to help executives find the right HP Solution Provider for their business. A selection panel evaluated hundreds of different HP partners based a number of criteria: business methodologies, mastery of innovative technologies, and exceptional customer service.
Zunesis made the list because of their commitment to add value to businesses through architecting the solutions that are right for customers, helping companies find the proper balance between cost-effectiveness, flexibility, and efficiency.
Zunesis not only understands how to sell and implement the vast HP portfolio, they also understand the "value add" in VAR. With a team of experienced architects, Zunesis has been able to help clients both strategically tackle today's issues as well as build forward-looking roadmaps that help companies better plan, prepare, and budget for future IT needs. This ability helps customers stay on top of their company's current problems while simultaneously preventing future ones.
The future of HP is bright as it moves forward into two companies, and this hopeful future is due in large part to the loyalty and ability of valued partners like Zunesis.