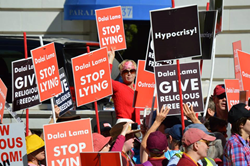 "Practice what you preach, professor," said Chase. "Stand up for tolerance instead of hate."
New York, New York (PRWEB) December 10, 2014
Demonstration:
Wednesday, December 10, Christie's at Rockefeller Plaza, 7pm - 10pm
In addition to being the co-founder of Tibet House, Robert Thurman is the Jey Tsong Khapa Professor of Indo-Buddhist studies at Columbia University in New York City. In 1997, TIME magazine named Thurman one of the 25 most influential Americans due to his close relationship with the Dalai Lama and his work in bringing Tibetan Buddhism to the West (1).
The protesters claim that Thurman has used this influence and fame to support the Dalai Lama's illegal ban against prayers to the Buddhist Deity, Dorje Shugden. According to the protesters, the Dalai Lama has instigated a campaign of persecution amongst Tibetans in exile around the world, including those living in New York City, whereby they are forced to abandon their generations old prayers to the Buddhist Deity Dorje Shugden or face serious discrimination and ostracism from within their own communities. This includes being refused entry to stores, restaurants and medical facilities, as well as being dismissed from their government jobs on account of their religious faith. This was exposed by Al Jazeera in 2009 (2). The protestors state that this systematic persecution is still in full force today and that the Dalai Lama and his key supporter Robert Thurman need to end this rather than encourage it.
In an October 2014 interview with PRI's The World, Thurman's Columbia University colleague, Modern Tibetan Studies program director Robert Barnett, confirmed the existence of an official prohibition of Shugden prayers by the Dalai Lama himself. Barnett told PRI, "that Shugden practitioners in the Tibetan exile community have faced persecution. And [Barnett] says the Dalai Lama's administration hasn't dealt with that very well" (3).
"We are asking Professor Thurman to stop condoning the Dalai Lama's illegal and immoral ban of the Shugden faith," said Colin Chase, a Manhattan businessman and the official spokesperson of the International Shugden Community (ISC), the group organizing the protests.
Chase went on to say, "If Professor Thurman were a true friend of the Dalai Lama, he would tell him to do something to stop the discrimination that's taking place instead of encouraging it." An irony of this, Chase said, and another instance of what the ISC is calling Thurman's hypocrisy, is that the professor recently published a book entitled Love Your Enemies.
"Practice what you preach, professor," said Chase. "Stand up for tolerance instead of hate."
Footnotes:
1. Robert Thurman Official Website, http://www.bobthurman.com/bio.php
2. Al Jazeera, 'The Devil Within' 2009, http://www.youtube.com/watch?v=Rqa2DeOIEQM . http://www.aljazeera.com/programmes/peopleandpower/2008/09/200893014344405483.html (script).
3. Bell, Matthew. PRI's The World, Oct 31, 2014 "Breakaway Buddhists take aim at the Dalai Lama." http://www.pri.org/stories/2014-10-31/breakaway-buddhists-take-aim-dalai-lama