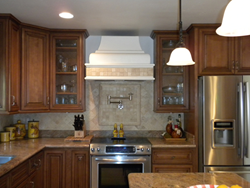 Discover the Perfect Style for A Dream Kitchen using 'Find Your Style Test' by CabinetDIY.
orange, CA (PRWEB) December 09, 2014
The kitchen is the heart of the modern day household. How to make the most significant space in the home stand out is a question on every homeowner's mind before starting a remodeling project. Renovating a kitchen successfully within a budget, and in a timely manner is not an easy task. Turning the space into a family's dream kitchen can also be extremely stressful. CabinetDIY eases this stress with pre-assembled kitchen cabinets and home delivery. CabinetDIY is also happy to announce their new "Find Your Style" online test to help homeowners find the perfect style to suit their lifestyle and living environment.
Everyone has their own personal style. Whether it be their sense of color, taste of the arts, or it could even be the taste of their favorite dish. Discovering a decorative style is the key to beginning a perfect kitchen remodeling project. Choosing the right kitchen cabinet style, picking floor colors, appliances, and lighting around the space is the most critical part of remodeling a kitchen. Because it is the most important component of the room, it should please the eye, and at the same time fit into the overall interior theme of the house, as well as provide the modern day functionality to fit one's lifestyle.
CabinetDIY's "Find Your Style Test" can help determine the customer's style by utilizing their own selections based on different aspects of their lives. This helps them discover the prudential interior style that they don't even know they have. Sense of style comes naturally, and taking this test generates personal styles based on the choices selected from the style test.
Take the test now. http://www.cabinetdiy.com/styletest/styletest.
As a leading Ready to Assemble (RTA) kitchen supplier, CabinetDIY always keeps great stock in their warehouse. All the kitchen cabinets they carry have matching vanity cabinets for bathroom projects too. CabinetDIY provides efficient service to their customers and short lead time ranges from 10 days-3 weeks. Their cabinets come pre-assembled and inspected and ship straight to their customers' doors. Free nationwide shipping is offered for any order greater than $1,800.
For more information on the RTA Kitchen Cabinets and the Free Kitchen Design service CabinetDIY provides. Please visit CabinetDIY at http://www.cabinetdiy.com.
About CabinetDIY
CabinetDIY was founded by a group of passionate interior designers and professional cabinet makers in 2004. It is their passion to assist customers in designing and building their dream interior projects. Anyone can find the perfect cabinet style to easily suit their taste at CabinetDIY.com. CabinetDIY's service facilities are located throughout the United States and all of their cabinets are carefully assembled, tested and packaged by skillful workers. Their service goal is to minimize the work load after their customers receive their products.
To request a free sample of their cabinets please go to http://www.cabinetdiy.com/product/sample or http://www.cabinetdiy.com to get a dream kitchen project started.